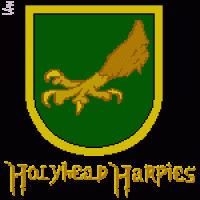 Glynnis Griffiths played Seeker for the Holyhead Harpies Quidditch team in 1953.
Considered to be "one of the finest Quidditch games ever seen", the Harpies' seven-day match against the Heidelberg Harriers came to an end when Griffiths made a spectacular catch of the Snitch (QA7).
Skills
Endurance and stamina
Glynnis Griffiths
Profession
Professional Quidditch player (Seeker)
Commentary
Etymology
Glynnis is a variation of the Welsh name Glenys, which derives from glân ("pure, clean, holy") or clen ("friendly, nice") (Behind the Name).
Griffiths is a Welsh surname which can mean "son of the strong leader" or "son of the griffin/dragon".
Pensieve (Comments)