"You know, what the school needs now is a morale-booster. Wash away the memories of last term! I won't say any more just now, but I think I know just the thing ..."
-- Gilderoy Lockhart (CS13)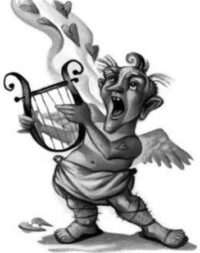 Lockhart takes it upon himself to whip up a Valentine's Day celebration in an effort to improve morale:
The walls were all covered with large, lurid pink flowers. Worse still, heart-shaped confetti was falling from the pale blue ceiling … Lockhart, wearing lurid pink robes to match the decorations, was waving for silence. The teachers on either side of him were looking stony-faced. From where he sat, Harry could see a muscle going in Professor McGonagall's cheek. Snape looked as though someone had just fed him a large beaker of Skele-Gro …

Lockhart clapped his hands and through the doors to the entrance hall marched a dozen surly-looking dwarfs. Not just any dwarfs, however. Lockhart had them all wearing golden wings and carrying harps.

"My friendly, card-carrying cupids!" beamed Lockhart. "They will be roving around the school today delivering your valentines! And the fun doesn't stop here! I'm sure my colleagues will want to enter into the spirit of the occasion! Why not ask Professor Snape to show you how to whip up a Love Potion! And while you're at it, Professor Flitwick knows more about Entrancing Enchantments than any wizard I've ever met, the sly old dog!" (CS13)
All day the dwarfs interrupt classes and generally cause chaos and embarrassment.
Valentine's Day with singing dwarfs
Date
Breakfast February 14th, 1993
Certainty
Stated in canon
Type of Event
Wizarding world
Commentary
Tags: diary