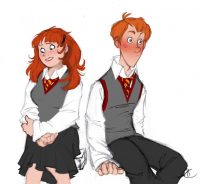 There are a lot of couples in the Harry Potter universe, some are great and some … not so much. Let's look at the seven best couples of the Harry Potter Universe and some of the ones that didn't work out.
At number one we have Arthur and Molly Weasley, how can you go wrong with putting them at number one? Because of Arthur and Molly, we get all of the wonderful Weasley children. At number two we have Ron and Hermione. Although it took seven books for them to finally realize how much they loved each other they have always had a strong relationship.
Tonks and Remus are number three, they were a great match that in the movie they even died holding hands. Number four is Bill and Fleur. They may have been an unexpected match but they showed that love can happen in the hardest of the times. James and Lily are number five they showed their love by sacrificing themselves to protect Harry.
Number six is Harry and Ginny. They had a lot in common. Harry might have first thought of her as just Ron's little sister but she became much more. Number seven is Cho and Cedric, although this couple didn't last as long as we thought it would due to a tragic event, they were a good pair.
Some of the couples that didn't work out are Harry and Cho, Ron and Lavender, and Hermione and Viktor. Harry and Cho had to deal with Cedric's death ultimately breaking the couple up. Hermione and Viktor were nice at the Yule Ball but we knew that Ron and Hermione were the endgame couple, which is the same reason that Ron and Lavender didn't work out. These couples may have been unlucky in love but it looks like in the end, all was well.
Podcast: Play in new window | Download (Duration: 2:07 — 2.9MB)
Subscribe: Google Podcasts | Stitcher | RSS
Commentary
Notes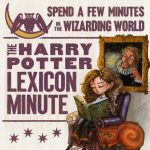 In the Harry Potter Lexicon Minute podcast you'll hear the voices of our editors sharing some of the many little things which delight us about the Wizarding World. In each podcast, just a couple of minutes in length, we'll talk about anything from cool trivia and interesting canon passages to the latest Wizarding World news. We hope you'll join us! And we'd love to hear from you as well. Feel free to use the comment section on the blogpost for each podcast to post your thoughts.
Special thanks go to Felicia Cano who gave us permission to use her amazing artwork of Hermione reading a book for the logo, which was created by Kim B.
Check out the PodBean app here
And if you want to create a podcast of your own, check out PodBean's hosting service.
Music: "Winter Chimes" Kevin MacLeod (incompetech.com)
Licensed under Creative Commons: By Attribution 3.0 License
http://creativecommons.org/licenses/by/3.0/
Pensieve (Comments)