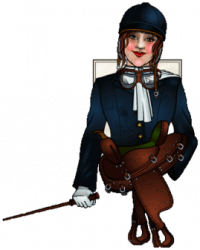 Laurentia Fletwock was a breeder (and racer) of winged horses. She also campaigned to restrict travel by brooms (JKR, WoM).
Laurentia Fletwock
Profession
Winged horse breeder and activist
Commentary
Etymology
Laurentia is a Roman name meaning "place of the laurel trees". Fletwock may be a play on "fetlock" (a part of a horse's leg) pronounced in a very posh English accent.
Pensieve (Comments)