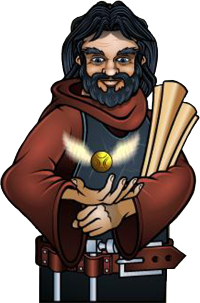 Bowman Wright was a metal-charmer. His father was a Muggle and mother a witch. He invented the Golden Snitch, which immediately replaced the Golden Snidget in games of Quidditch (QA4, FW, DH16). Wright loved science as well as sport. He was born in Godric's Hollow in 1492.
Family
Muggle father, witch mother.
Skills
Highly skilled metal-charmer
Bowman Wright
Hair
black, with a abeard
Profession
Wizard smith, metal-charmer
Commentary
Etymology
"wright" = English craftsman.
Notes
*There is some discrepancy as to when Bowman lived; according to his Famous Wizards card and the facts presented on JKR.com, it was from 1492-1560, but Quidditch Through the Ages strongly suggests that he invented the Golden Snitch in the 1300s. Clearly, one source is wrong. Wright was the "Wizard of the Month" for December 2005 on JKRowling.com.
Pensieve (Comments)
Tags: golden inconsistencies innovation inventions inventors metals