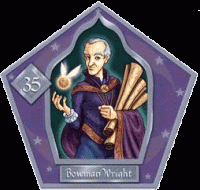 It is invented as a substitute for the Golden Snidget in Quidditch, as the Snidget is now a protected species and can no longer legally be used in matches. The inventor of the Golden Snitch is said to be Bowman Wright (FW).
Timeline Notes
The date of the introduction of the Golden Snitch is given in Quidditch Through the Ages as being 300 years after the invention of the game in Queerditch Marsh, which was in the 1000s, and 100 years after the first time the Sniglet bird was thrown in a the middle of a Quidditch match, which was in 1269. This means that the Snitch was invented in the mid-1300s.
However, every record we have of Bowman Wright -- QA, his famous wizard card, and Rowling's Wizard of the Month entry -- give Wright's date of birth as 1492, about 150 years after the Snitch was invented! There is no way to rectify these two disparate canon facts.
Golden Snitch invented and introduced into Quidditch
Certainty
Inferred from canon
Type of Event
Wizarding world
Commentary
Tags: gold golden inconsistencies innovation inventions Quidditch history