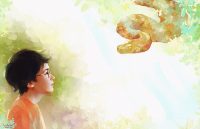 A local zoo to which the Dursleys took Dudley on his eleventh birthday, along with Piers Polkiss and, against their will, Harry (PS2). At the zoo, they bought ice cream treats, saw a gorilla, ate at the zoo restaurant, and visited the reptile house (which Dudley found boring because the animals weren't moving around much).
Commentary
Notes
The first Harry Potter film incorrectly shows Harry and the Dursleys at the London Zoo. This cannot be true, however, because when Harry travels to Diagon Alley for the first time a month later, the book states clearly that he had never been to London before:
"Can we buy all this in London?" Harry wondered aloud.
"If yeh know where to go," said Hagrid.
Harry had never been to London before. Although Hagrid seemed to know where he was going, he was obviously not used to getting there in an ordinary way. He got stuck in the ticket barrier on the Underground, and complained loudly that the seats were too small and the trains too slow (PS5).
Which zoo was it? There is a zoo/adventure park in Surrey that fits the bill. It's called Chessington's World of Adventure, and it has both a reptile house and a family of gorillas.
Pensieve (Comments)
Tags: animals