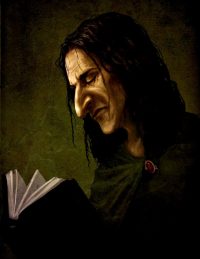 Recently, I've had some conflicting feelings about everyone's favorite Potions Master, Severus Snape.
When asked if I'm a Snape fan or not, I immediately answer: no. He is definitely one of my least favorite characters, I do not think he was a hero, and I would say that what he felt for Lily was not love.
However, recently, I re-listened to the Alohomora podcast that discussed the Deathly Hallows chapter The Prince's Tale. While listening to the discussion about the memory of Snape showing Dumbledore his Patronus, and that iconic phrase 'Always', I got choked up and teary eyed.
I realized how contradictory I was being. If I don't believe that what Snape felt for Lily was love, why am I getting so emotional about Snape's declaration?
I've tried to discover what is making me so inconsistent in my feelings about Snape. I feel the movie portrayal of this Deathly Hallows chapter has a lot to do with it. Alan Rickman's performance is superb, and one of my favorite non book scenes from the films is the one of Snape finding Lily's body in the destroyed cottage. So, when I read and think about the 'Always' scene I think it's hard for me to not overlap the book Snape with Alan Rickman's performance.
I also think that, perhaps, despite my personal feelings about what I believe Snape felt for Lily, it's still the purest and most real thing about this character. Snape is a cruel, resentful, petty man, but his 'love' for Lily was the purpose of his life, the one good thing about him. I think alot of my emotion may also be coming from the pity I feel for him in this moment. To have the only thing that he felt was love, to have that be such a sad thing, instead of happy, makes me feel sorry for him.
Lastly, I also think that the manner in which Snape died causes me to get emotional as well. I don't have to like the man to admit that the circumstances of his death were unfair. Voldemort's total lack of emotion and selfish reasoning for murdering Snape are shocking, to say the least. Having witnessed this, and then pretty much immediately taking a deep dive into what made Snape, Snape, is definitely an emotional roller coaster.
What about you? Are you a Snape fan? A Snape hater? What is it about Snape that you like or dislike? Let us know in the comment section at the bottom of the podcast page found on the Lexicon.
Podcast: Play in new window | Download (Duration: 4:09 — 4.7MB)
Subscribe: Google Podcasts | Stitcher | RSS
Commentary
Notes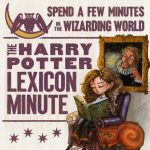 In the Harry Potter Lexicon Minute podcast you'll hear the voices of our editors sharing some of the many little things which delight us about the Wizarding World. In each podcast, just a couple of minutes in length, we'll talk about anything from cool trivia and interesting canon passages to the latest Wizarding World news. We hope you'll join us! And we'd love to hear from you as well. Feel free to use the comment section on the blogpost for each podcast to post your thoughts.
Special thanks go to Felicia Cano who gave us permission to use her amazing artwork of Hermione reading a book for the logo, which was created by Kim B.
Check out the PodBean app here
And if you want to create a podcast of your own, check out PodBean's hosting service.
Music: "Winter Chimes" Kevin MacLeod (incompetech.com)
Licensed under Creative Commons: By Attribution 3.0 License
http://creativecommons.org/licenses/by/3.0/
Pensieve (Comments)