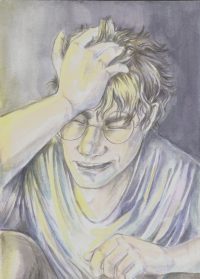 This chapter portrays Harry as a normal teenage boy. Although strange things have happened to him, he likes sports and worries about homework. And above all, he wants to look cool. When his scar hurts, he does not want to bother his friends, the Weasley family, or even the man he has learned can solve everything – Albus Dumbledore. They might think he is stupid or losing his nerve. Harry finally settles on writing to Sirius. But in his letter, he does not describe the vision he had, afraid of looking too worried.
Harry will hold on to this desire to look cool in both the rest of this book and in Order of the Phoenix. Remember when he wanted to impress Cho with his performance on the third task? Or when Harry did not want to be seen with Luna, Ginny or Neville on the train to Hogwarts in Book 5? Only in Half Blood Prince will he go back to being the boy from the first book, who chooses his friends based on their merits, not their status.
I think many people can relate to this need to look cool as a teenager. It's part of wanting to be accepted by your social group and constructing your identity. Also, this book contains the lesson that when you have real friends, they will be happy when you are honest and vulnerable with them. These themes are some of the reasons this book is very recognizable to everyone who is – or has been – a teenager.
Podcast: Play in new window | Download (Duration: 2:52 — 3.5MB)
Subscribe: Google Podcasts | Stitcher | RSS
Commentary
Notes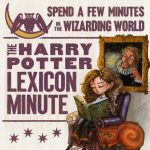 In the Harry Potter Lexicon Minute podcast you'll hear the voices of our editors sharing some of the many little things which delight us about the Wizarding World. In each podcast, just a couple of minutes in length, we'll talk about anything from cool trivia and interesting canon passages to the latest Wizarding World news. We hope you'll join us! And we'd love to hear from you as well. Feel free to use the comment section on the blogpost for each podcast to post your thoughts.
Special thanks go to Felicia Cano who gave us permission to use her amazing artwork of Hermione reading a book for the logo, which was created by Kim B.
Check out the PodBean app here
And if you want to create a podcast of your own, check out PodBean's hosting service.
Music: "Winter Chimes" Kevin MacLeod (incompetech.com)
Licensed under Creative Commons: By Attribution 3.0 License
http://creativecommons.org/licenses/by/3.0/
Pensieve (Comments)