Patronus Charm — "Expecto Patronum"
• Spells
The Patronus Charm, expecto patronum, conjures a silvery phantom shape, usually that of an animal, which is the embodiment of the positive thoughts of the caster. A Patronus will drive away Dementors. A fully-shaped spirit animal is called a "Corporeal Patronus." (OP8, OP16)… Read More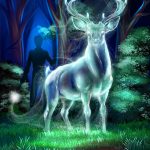 Patronus — "Expecto Patronum"
• Magical effects
A Patronus is a silvery-white image of a creature created by using the Patronus Charm. Lupin describes a Patronus as "a kind of positive force, a projection of the very things that the dementor feeds upon — hope, happiness, the desire to survive — but it cannot feel… Read More