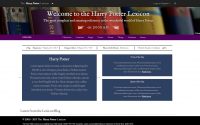 It's almost here.
As many of you know, two years ago, Nick Moline and I started working on a complete update and overhaul of the venerable Lexicon website. Our goal was to find a way to bring all the content of the Lexicon into a content management system to allow connections between data that we simply couldn't create with the old HTML pages.
Beginning about a year ago, a team of over 30 editors has been working on transferring data from the old pages to the new system. They've been not only copying information but also making connections between things, updating each entry, and in some cases adding commentary from a fan point of view.
Our goal was to go live on Thursday, November 18, one year before the premier of the Fantastic Beasts film. We made our deadline, sort of. The site went into a closed beta on that day and I invited a number of fans to visit the site and give feedback.
Why not open it completely? Well, at the moment there are two missing features which would make that very difficult: the home page and the search. Since the home page presents the basic categories where you would logically start exploring, and since the search is how you would start exploring if you didn't have the home page, the site is a bit clumsy to get into. Once you've found an entry, however, you're off and running. Everything links to other things. Well, almost everything. We're still editing entries and there are a number of dead ends left.
If you're willing to give the site a try and would like to give feedback, let me know at [email protected]. I'd be happy to send you the log-in information. And if you'd rather wait for the site to be fully functional, just hang in there. We should be going live very, very soon.
Commentary