Magic's just science that we don't understand yet.
-- Arthur C. Clarke

It was very early in my life that I became captivated with the worlds of Science Fiction and Fantasy.  From Tolkien's Middle Earth, to C.S. Lewis's Narnia, to Roddenberry's Federation, the worlds of my favorite pieces of fiction spurred me on in a myriad of ways.
I can trace my eventual career path in technology to my love of the magical worlds in the pages of my favorite books.  Like Hermione in the library I became obsessed with knowing how things worked and even how to create the effects.  When I visit places like The Wizarding World of Harry Potter at Universal Studios, I do so with a desire to see how technology can bring magic to life.
As a former English teacher, lifelong Tech Enthusiast, and massive "fantasy fiction geek", Matthew Cortland has decided to bring all three of these passions together into one new endeavor called "The Cauldron."
Inspired by descriptions of magic found in fantasy books, the Cauldron is a Pub and Inn to be built in the heart of London as early as Next Year.  What makes this place unique is its basis in both fantasy (in particular Harry Potter, but other franchises as well) and science.  Matthew is approaching this project like a tech startup, hosting hackathons to develop new technology, food and drink specifically for the space, and crowdfunding his launch through Kickstarter.
I can count on one hand the number of Kickstarter projects I've backed, I'm extremely picky when it comes to giving away my money, but this project has earned my donation with its scope of imagination.  Even before the hackathons they are already planning on having magnetically floating candles, LCD based moving portraits on the walls, and RFID based wand controlled beer taps.  This place sounds absolutely wonderful, the dream home of a Potter Fan like me, and I'm guessing, you as well.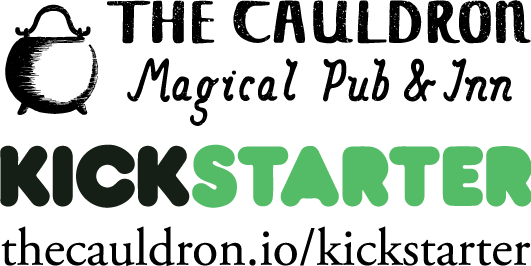 The Cauldron Kickstarter campaign has some truly magical awards they are giving their backers.  As a thank you for backing the project, you can have great gifts like your name permanently written on the ceiling with a cipher to find it (Silver Tier and above), the ability to be one of the moving photographs (Gold Tier and above), a key to "The Vault" where you can get a behind the scenes look at the magic (Moonstone Tier and above), and many other items.
The Cauldron is going to be a truly magical place for all who visit, but it will also be a place that continues to capture the imagination the youth with the magic of literature.  In addition to hosting educational outings for students, there will be a continual book drive where visitors can donate a copy of their favorite childhood book and those books will be given to children to enjoy.
Please consider backing The Cauldron as I have, and even if you can't, you may be interested in signing up for their newsletter to hear more about how things progress.
If you do back The Cauldron, do me a favor when you get your Backer Survey in August, please give them my referral code "jmrg" when you do so that they know I sent you.
Commentary
Notes
The Cauldron did not contact me or the Lexicon to ask for this post, and we are not receiving anything from them other than the Backer awards I'm receiving for personally backing the Kickstarter Campaign (which I purchased with my own money)
Pensieve (Comments)