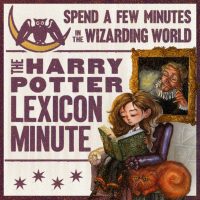 The Harry Potter Lexicon exists because of the enthusiasm and hard work of a small group of dedicated fans from all over the world. Now I want to share with you some of their passion and excitement in a new way. I'm excited to introduce The Harry Potter Lexicon Minute podcast. In these short 1-2 minute episodes you'll hear voices of many different editors sharing the things which delight them about the Wizarding World. These fun little podcasts will come out a couple of times a week, on Wednesdays and Saturdays.
We'll talk about anything from cool trivia and interesting canon passages to the latest Wizarding World news. We might share something that's stuck in our heads as we research the books or maybe recall some event from the history of Harry Potter fandom. For example, in the first few episodes you'll hear me, Steve VanderArk, talk about a character who disappeared over the course of the books, Bridget Bartlett discuss the Barebone family names, Ashmita Shanthakumar discuss pets at Hogwarts, and Eileen Jones pointing out that Bane was right all along in his rant in the first book. Other editors will be adding their thoughts over the coming months as well.
We hope you'll join us! The first episodes are available today. Add The Harry Potter Lexicon Minute to your podcast feed to get each episode automatically, or watch the Lexicon's home page for updates when new episodes go live. We know you'll love these little sparkling tidbits of Harry Potter arcana, history, news, and lore. And we'd love to hear from you as well. Feel free to use the comment section on the blog post for each podcast to share your thoughts.
Commentary