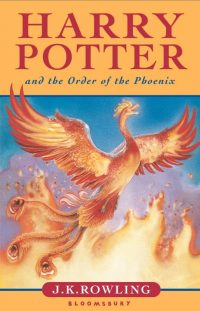 Steve VanderArk here to let you know something new that's coming to the Harry Potter Minute. Every couple of episodes, we're going to share some thoughts on one particular chapter of one of the books. These chapter episodes will focus on one particular detail or connection that struck us as we read the novels.
The first ones have been written and recorded by me, but other editors might be jumping in from time to time. I've decided to start with book five rather than book one. Why? Well, book five is actually my favorite. And since I've written an entire book about Philosopher's Stone and almost finished one about Chamber of Secrets, I figured it would be fun to spend a little time with one of the later books for this series.
The first episode, from my reading of chapter one of Order of the Phoenix, talks about Rowling's use of the drought motif in the beginning of the book. You'll find it in your feed today along with this introduction. The next chapter podcast, talking about the second chapter of book five, is scheduled for March 17.
If you like these chapter episodes and don't want to have to wait, you might want to consider supporting the Lexicon on Patreon at the Third Year level — that's three dollars a month. Our Third Years get early access to the chapter episodes in groups of six per month. They have already received links to the episodes for the first six chapters last month. Everyone who is at Third Year Level on March 10 will have access to the episodes for chapters seven through twelve as well as the first six.
I hope you enjoy the chapter podcasts as much as I love re-reading the novels and discovering new things to share.
That's it for now. This is Steve VanderArk of the Harry Potter Lexicon. Thanks for listening.
Podcast: Play in new window | Download (Duration: 1:37 — 2.4MB)
Subscribe: Google Podcasts | Stitcher | RSS
Commentary