I have had the pleasure of discovering Grimmauld Place myself … twice, as a matter of fact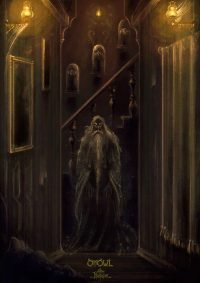 In Chapter 4 of Order of the Phoenix, we and Harry make our first visit to Number Twelve Grimmauld Place. As she has done from the very beginning of the series, Rowling lets us discover a new part of the wizarding world a tiny bit at a time along with Harry. Through his eyes we see the front door with no letterbox and a serpent knocker. We step into the darkened hallway and just catch a glimpse of our surroundings before the door closes and we're in the dark. The musty old gas lamps flicker into life and we inch our way down the corridor. We pass a set of curtains and assume with Harry that they hide another door, then head up a staircase lined with the severed heads of house-elfs. Along with Harry, we are discovering a place that is creepy and spooky and dark and weird.
I have had the pleasure of discovering Grimmauld Place myself … twice, as a matter of fact. The first time was when I followed that exact path from outside the door, through the hall, and up those stairs. I was a guest on the set as they were filming "Order of the Phoenix" and our guide took us into the set of Grimmauld Place that way. The whole house was built on that soundstage, and we followed Harry's route. There were even house-elf heads on the stariway wall, one after the other in a row, and one even hanging outside the window on the landing to keep the sequence of heads going. Unfortunately, you never saw that extra elf head in the film, but it was there.
The other time I discovered Grimmauld Place was as I was researching my book In Search of Harry Potter. A little bit of canon detective work revealed that Grimmauld Place would have to be a traditional London square within a mile of King's Cross, but located closer to a different, rather run-down Underground station. Three or four such squares exist, but only one has houses taller than two or three storeys. It's called Lonsdale Square and it fits the bill perfectly. The nearest Underground station, which would be the one Arthur took Harry to in order to get to central London for his hearing, is Highbury and Islington, which is definitely, shall we say, underwhelming.
There is one big difference between the Grimmauld Place of the books and Lonsdale Square. The houses in Lonsdale Square are very pricey, running well over a million pounds, and are immaculately kept up. The square is certainly not as run down and trashy as Harry sees it in the book.
Podcast: Play in new window | Download (Duration: 2:57 — 3.6MB)
Subscribe: Google Podcasts | Stitcher | RSS
Commentary
Notes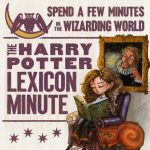 In the Harry Potter Lexicon Minute podcast you'll hear the voices of our editors sharing some of the many little things which delight us about the Wizarding World. In each podcast, one to two minutes in length, we'll talk about anything from cool trivia and interesting canon passages to the latest Wizarding World news. We hope you'll join us! And we'd love to hear from you as well. Feel free to use the comment section on the blogpost for each podcast to post your thoughts.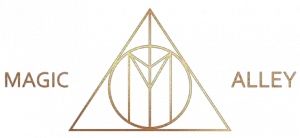 Special thanks go to Felicia Cano who gave us permission to use her amazing artwork of Hermione reading a book for the logo. Thanks also to Magic Alley for sponsoring the podcast!
Pensieve (Comments)