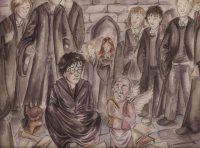 Nick:
Hey, everyone, welcome to your Harry Potter Lexicon Minute, I'm Nick Moline, The Harry Potter Lexicon's resident tech wizard,
Barbara:
and I'm Barbara Moline, one of the Editors on the Harry Potter Lexicon, and Nick's Wife, and this is the story of how our Mutual enjoyment of Harry Potter brought Nick and me Together
Nick:
As I mentioned in a previous Minute, I became a Harry Potter fan in late 2001, early 2002 shortly after the release of the first movie.
Barbara:
I beat you on that, I became a fan several months before the first movie came out.
Nick:
By 2004, I had joined the staff of an unofficial text based Role Playing Game based on the Harry Potter universe called Hogwarts Live.
Barbara:
And by 2005 I was a player of the game.
Nick:
One day, Shortly after she became a member of the site, I was feeling depressed and I guess my emotional state was slightly evident in the chat.
Barbara:
You were moping.
Nick:
Fine, I was moping.
Barbara:
It was so sad, I couldn't stand to see you hurting, so I started talking to you.
Nick:
And you succeeded in cheering me up.  Over the subsequent months we started talking a lot, often about our mutual love of the Wizarding World.
Barbara:
Eventually, our conversations moved from the game's chat, to Instant Messenger apps, and eventually to the phone.
Nick:
We started talking long into the night, every night.
Barbara:
We looked forward to talking to each other every night.
Nick:
One day, I invited you to come visit me in Texas to see me in a play.
Barbara:
Our relationship continued blooming, and on July 2nd, 2006 we were married in a small ceremony in Nick's Parent's house.
Nick:
This week marks 12 years since our wedding and our relationship is still going strong.  While Harry Potter isn't the only reason we got together, we owe our first meeting, and many of our conversations to our mutual love of J.K. Rowling's Wizarding World.
Barbara:
Here's to another Dozen Years together!
Podcast: Play in new window | Download (Duration: 2:19 — 4.1MB)
Subscribe: Google Podcasts | Stitcher | RSS
Commentary
Notes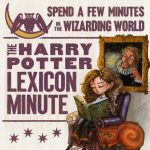 In the Harry Potter Lexicon Minute podcast you'll hear the voices of our editors sharing some of the many little things which delight us about the Wizarding World. In each podcast, just a couple of minutes in length, we'll talk about anything from cool trivia and interesting canon passages to the latest Wizarding World news. We hope you'll join us! And we'd love to hear from you as well. Feel free to use the comment section on the blogpost for each podcast to post your thoughts.
If you need a great podcast player for this and all your podcasts, give the PodBean app a try.
Special thanks go to Felicia Cano who gave us permission to use her amazing artwork of Hermione reading a book for the logo, which was created by Kim B.
Pensieve (Comments)