... fans will be fooled into thinking that their version of events must be correct. It's not.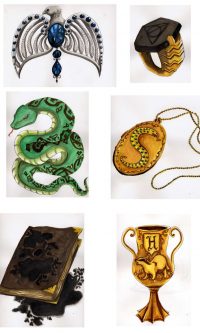 A few days ago, Entertainment Weekly posted "A definitive timeline of every Harry Potter Horcrux." I sure wish they'd research these things better before publishing them. Because they're a mainstream magazine and because they've clearly been given a certain level a special access to the Fantastic Beasts team, fans will be fooled into thinking that their version of events must be correct.
It's not.
But we shouldn't be surprised. Pulling together accurate details about something as complex as the Harry Potter Timeline is not something that a typical reporter can do with a week's worth of reading Wiki posts and watching the films. Creating a cohesive timeline requires a very high level of attention to detail, a deep knowledge of canon, and an ability to synthesize all those details and references into a cohesive sequence. This expertise only comes from years of research and a deep knowledge of Harry Potter canon. This is the kind of skill that a fair number fans have developed over the past decades, and twenty or thirty of those extraordinary fans now work as editors of this website.
So these gifted Lexicon editors have worked together to create an accurate timeline of Horcruxes. I've let EW know about it (we'll see if they make my comment and link public), and now we're presenting it to you. Take look, read each entry to discover the canon underlying what you see, and then feel free to add your comments, suggestions, and thoughts at the bottom of this page. Part of what makes the Lexicon's information so accurate is the continual discussion with fans from all over the world.
Here you go! The TRULY Definitive Timeline of Every Harry Potter Horcux.
Commentary