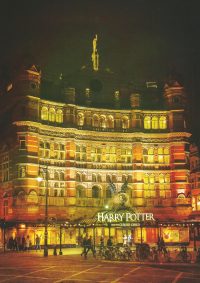 Going chapter by chapter through Chamber of Secrets was so much fun, I wanted to do another series just like it. I decided to tackle Harry Potter and the Cursed Child as my next book, for a couple of reasons.
The first reason is I'm hoping a slower more thoughtful read through of this story will give me a better perception of the Cursed Child. As of now, I'm not a fan of this story. I remember being really excited that we would get to see further into Harry's life, being a little apprehensive about it being a play and not an actual book, but I love theatre, so mostly excited for this story. Well, excitement gradually turned to disappointment the further I got through the script. In my opinion, the lack of evidence of JKR's magical writing, the discrepancies of character, and an overall feeling of 'fan-fiction-made-canon' made me really dislike this story as a whole after my first, and only, read through of this script.
The second reason is, as I just mentioned, I've only read through the play once. Even if I'm not thrilled about it, this story is officially canon, it is what happened to Harry after we left him on Platform 9 ¾ at the end of book 7. I want to, and need to, increase my knowledge of this story.
Now, some of you may be thinking, 'Well, Eileen, we don't want to hear only negative things about Cursed Child, some of us actually like this story.' I totally agree with you, I was apprehensive about choosing Cursed Child for this very reason. My solution for this is getting a lot of peoples help with this series. My mom and my friend Angela loved the Cursed Child, so I plan to ask for their opinions a lot. Also, I know that people have said the live production of the play is, pun intended, magical. If I ever get the chance to go to a live performance, I'm hoping that seeing it played out on stage will give me a better appreciation of the play; as I'll probably discuss at least once in the coming Minutes, there are issues that arise when you can only read the script verses actually seeing the director's vision played out. And for that reason I am also getting the opinions of people who have seen the play, seeing if it was played out differently on the stage verses how I imagined it in my head. I've already done this a couple of times, and it has really helped. I'm also endeavoring to find at least one positive thing in each segment of the play I'll discuss per minute, I'm hoping I can achieve this goal.
Before I go I'd like to use the Sonorus charm to give a big shout out and thank you to all of the people that have and will be helping me with this series, anyone who has shared their opinion with me, or given me insight on the production of the play. I'd like to especially thank the Patreon supporters who responded to Steve's question about whether I should do a Cursed Child series or not. Your support gave me the courage to move forward with this, and thank you for your support of the Lexicon in general, we really appreciate it.
I hope you'll enjoy coming along this journey with me, discovering connections, and hopefully a greater appreciation of the 8th story, Harry Potter and the Cursed Child.
Podcast: Play in new window | Download (Duration: 4:27 — 5.0MB)
Subscribe: Google Podcasts | Stitcher | RSS
Commentary
Notes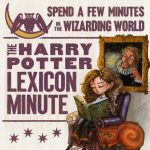 In the Harry Potter Lexicon Minute podcast you'll hear the voices of our editors sharing some of the many little things which delight us about the Wizarding World. In each podcast, just a couple of minutes in length, we'll talk about anything from cool trivia and interesting canon passages to the latest Wizarding World news. We hope you'll join us! And we'd love to hear from you as well. Feel free to use the comment section on the blogpost for each podcast to post your thoughts.
Special thanks go to Felicia Cano who gave us permission to use her amazing artwork of Hermione reading a book for the logo, which was created by Kim B.
Check out the PodBean app here
And if you want to create a podcast of your own, check out PodBean's hosting service.
Music: "Winter Chimes" Kevin MacLeod (incompetech.com)
Licensed under Creative Commons: By Attribution 3.0 License
http://creativecommons.org/licenses/by/3.0/
Pensieve (Comments)