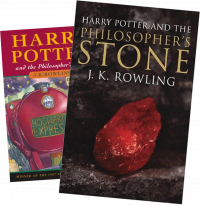 Think about when you first saw that dedication to you, the reader, in Harry Potter and the Deathly Hallows. You probably read that before you read a word of the novel itself. Think for a moment about whether reading that dedication impacted the attitude you had as you started in on Chapter One. Did it make Harry's adventures seem more meaningful or important? Did it make you think about how Harry's story has impacted your life? In literary theory, things like dedications, author bios, cover art – those things which make up the item we call a book but are not the central text that makes up most of the book – are called paratext. And the Harry Potter books demonstrate with exceptional clarity just how much paratext influences the way a reader experiences a text.
Publishers were thinking about the way paratext shapes our expectations and assumptions about a book when they decided to obscure Rowling's gender. They kept a female name off the front cover and title page of Harry Potter and the Philosopher's Stone because they worried that doing so would turn off potential male readers. The runaway success of the book defeated attempts to keep its author's name and face hidden but led to new opportunities for observing the role of paratext. The cover art of the Harry Potter books, for example, varies from country to country and from language to language. There is even the edition of the series geared specifically towards adult readers. Think about the Philosopher's Stone cover aimed at adults, for example. How does a simple photo of a red stone on an ominous dark background set you up with different expectations for a story than does the colorful and much busier cover art of other editions of the book?
Paratext is much richer than we give it credit for. Look through you Harry Potter books and take a moment to think about how things like a back-cover summary or even the publisher's logo shape your reading.
Podcast: Play in new window | Download (Duration: 2:36 — 2.4MB)
Subscribe: Google Podcasts | Stitcher | RSS
Commentary
Notes
Paratext Resources from the Web:
https://www.chronicle.com/article/The-Paratexts-the-Thing/143761
https://www.popmatters.com/190063-judging-comics-by-their-covers-2495567072.html
https://www.ncbi.nlm.nih.gov/pmc/articles/PMC3871725/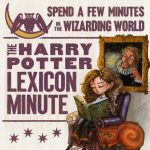 In the Harry Potter Lexicon Minute podcast you'll hear the voices of our editors sharing some of the many little things which delight us about the Wizarding World. In each podcast, just a couple of minutes in length, we'll talk about anything from cool trivia and interesting canon passages to the latest Wizarding World news. We hope you'll join us! And we'd love to hear from you as well. Feel free to use the comment section on the blogpost for each podcast to post your thoughts.
Special thanks go to Felicia Cano who gave us permission to use her amazing artwork of Hermione reading a book for the logo, which was created by Kim B.
Check out the PodBean app here
And if you want to create a podcast of your own, check out PodBean's hosting service.
Music: "Winter Chimes" Kevin MacLeod (incompetech.com)
Licensed under Creative Commons: By Attribution 3.0 License
http://creativecommons.org/licenses/by/3.0/
Pensieve (Comments)