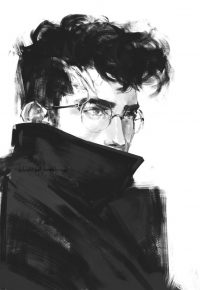 In today's minute I'm going to discuss Act 1 Scenes 6 and 7.
Both of these scenes share a similar characteristic: Harry takes a lot of heat from someone who is stuck in the past.
Delphi speaks a line in scene six, referring to Amos: "It's tough to live with people stuck in the past, isn't it?"
In scene six, Amos is the character stuck in the past. He was never able to find peace over Cedric's death, and after hearing the rumors of the super powerful Time Turner he comes to Harry's house to try to guilt Harry into using this new Time Turner to go into the past and save Cedric's life. Harry already has plenty of guilty feelings, though, he doesn't need Amos to make him feel that way. Regardless, he won't break the rules of Wizarding Law to change the past. 
Amos brings up the phrase 'Kill the spare', it is so tragic that the only reason Cedric died is because he was in the wrong place at the wrong time. 'Kill the spare' comes up later in the play, so this is probably a little bit of foreshadowing. 
In scene seven, it's Albus who is stuck in the past, but not his own. He is stuck in his father's past. Albus is so angry about all of the things Harry went through, all the things that created his legacy, what makes him famous. I'm not sure why Albus is holding all of this stuff against Harry, but it is getting in his way of seeing how hard Harry is trying in the present to be a good father. 
When trying to find something to talk about for the positive bit of each of these Minute's I hit a snag. There isn't really anything here that I really like, but there's not any problems that I find either. These are both 2 scenes that move the narrative of this particular story forward in a pretty effective way. Amos's request of Harry in scene six sets up Albus and Scorpius's adventures later in the play. And the gifts given, and Albus's disdain for them, in scene 7 is what sets up Albus and Scorpius being able to send a message from the past to their parents in the future.  
Podcast: Play in new window | Download (Duration: 3:08 — 3.8MB)
Subscribe: Google Podcasts | Stitcher | RSS
Commentary
Notes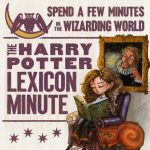 In the Harry Potter Lexicon Minute podcast you'll hear the voices of our editors sharing some of the many little things which delight us about the Wizarding World. In each podcast, just a couple of minutes in length, we'll talk about anything from cool trivia and interesting canon passages to the latest Wizarding World news. We hope you'll join us! And we'd love to hear from you as well. Feel free to use the comment section on the blogpost for each podcast to post your thoughts.
Special thanks go to Felicia Cano who gave us permission to use her amazing artwork of Hermione reading a book for the logo, which was created by Kim B.
Check out the PodBean app here
And if you want to create a podcast of your own, check out PodBean's hosting service.
Music: "Winter Chimes" Kevin MacLeod (incompetech.com)
Licensed under Creative Commons: By Attribution 3.0 License
http://creativecommons.org/licenses/by/3.0/
Pensieve (Comments)