"It's what they used to say about me at school. Delphini Diggory - there isn't a hole she couldn't dig herself into."
-- Delphi (CC1.6)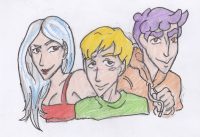 Delphini Diggory is the alias used by Delphi after confunding Amos Diggory (CC1.6).
Family
Although she claims to be the niece of Amos Diggory, she is revealed to be the daughter of Lord Voldemort and Bellatrix Black Lestrange.
Delphini Diggory
Profession
Care worker at St Oswald's Home for Old Witches and Wizards
Commentary
Etymology
The name Delphini is related to the name Delphina, which means "womb". It comes from the Latin boy's name Delphinus, which meant someone from Delphi, a city in Ancient Greece. This in turn may be related to Greek δελφυς (delphys) "womb" (Behind the Name).  It could also be a shortened form of the flower name delphinium, which are beautiful plants but are "toxic to humans and plants" (Wikipedia).
Pensieve (Comments)
Tags: code names fake names pretend