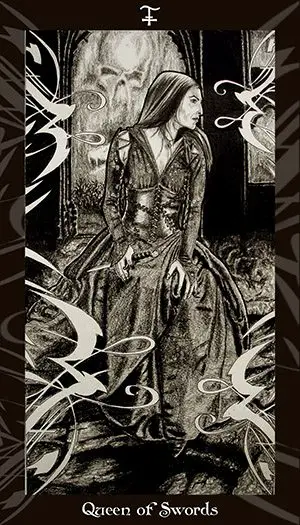 "Here's Bellatrix as the Queen of Swords. This definitely was a no-brainer.
Traditional interpretation has the Queen as a dark-haired and independent woman who is able to stand up for herself, is fiercely competitive, knows and trusts her strengths and may be stubborn and intimidating. She has suffered much, but may also have a bit of a cruel streak herself. She relies more on her brain than on her heart.
A bit about this card: as you can see, my Bellatrix may have borrowed movie-Bella's dress which was pretty cool, but not her face. I really like and admire Helena Bonham-Carter and love her in other movies, but her crazy, chipped-porcelain-doll persona with the frizzy hair was completely wrong for the way I imagined Bellatrix from the books.
"My" Bella has straight, raven-black hair, a high-backed blade-sharp nose, gaunt and aristocratic features and there's more of pure cruelty than demetia in her face. She is in control, she knows what she's doing and she enjoys every minute of it."
HP Tarot – Queen of Swords
Commentary
Image title supplied by the artist.
Comments