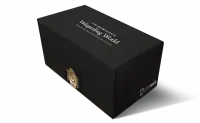 Episode 24 is a little different than usual, it is actually 2 mini-episodes put into 1 (mostly because after recording the first J.K. Rowling's Wizarding World Loot Crate crate unboxing, I was so busy I didn't have time to actually edit and post it).
As such, the second Wizarding World Crate came before I ever managed to post the first one.  When the second Wizarding World crate came in, we were unable to arrange a time with Steve to record so we recorded it ourselves.
Crate 1: Welcome to the Wizarding World
New York Ghost Newspaper T-Shirt
Niffler Funco POP Vinal (one of several options)
Pigwidgen Stuffed Owl
MACUSA Notebook
Owl Post Keychain
Bowtruckle Pin
Crate 2: A Matter of Time
Severus Snape "Always" T-Shirt
Assorted Funco POP (Nick got Hermione in Yule Ball attire, Barbara got Sirius Black)
Platform 9 3/4 Socks
Deathly Hallows Pocket Watch
Time Turner Charm
Prophecy Pin
Get your own Wizarding World Crate!
Loot Crate's Wizarding World crate is great, containing a ton of exclusive Harry Potter and Fantastic Beasts collectibles.  Take a look at our unboxing of the first two crates and then if you want your own J.K. Rowling's Wizarding World crate, go to lootcrate.com/hplexicon and use promo code HPLEXICON and order one.  The next crate will be themed "Hogwarts House Pride."  When you select your crate you can declare your house and the products in this next crate will be tailored to your selected house.
Using this promo code not only saves you some money on your order, but you'll also be supporting the Lexicon at the same time.
If you'd like to support the lexicon in other ways, be sure to visit our Support the Lexicon page.
Podcast: Play in new window | Download (Duration: 35:52 — 39.0MB)
Subscribe: Google Podcasts | Stitcher | RSS
Podcast (video-podcast): Play in new window | Download (Duration: 35:52 — 161.0MB)
Subscribe: Google Podcasts | RSS
Commentary