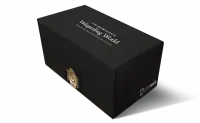 For me, it started with a visit to my son's house. We were hanging around chatting when I noticed a gray box on the bookshelf with a label on it reading "Firefly Cargo Crate." I remarked about it since, you know, it was Firefly. He took it down and showed me what was in it.
Now I've never been one for collecting little odds and ends. I don't have the shelf space for it and I prefer books anyway. But oh, this stuff was cool. Cool enough to make me think about clearing a shelf or two — or at least pushing the books back to make some room. The company is called LootCrate and they come up with some pretty wild and wonderful stuff! Honestly, though, all my shelves are devoted to Harry Potter books, so I figured I could give the Firefly crate a pass.
That was a year ago. Now there's a new crate available — the "J.K. Rowling's Wizarding World crate." That's right, a Wizarding World crate. Nick Moline, our Lexicon Tech Wizard, and his wife each got one and I watched as they opened them. They pulled out a nifty minature niffler, a t-shirt, a really cool keychain, an owl, a MACUSA Notebook, and a bowtruckle pin. And I have to admit, I'm sold. I want a Wizarding World crate for myself. I hear that the latest one is Hogwarts House Pride!
Time to make space on my shelves, I guess.
UPDATE: Just watched Nick and Barbara unbox their latest crate. A DEATHLY HALLOWS POCKETWATCH??? Seriously? Oh, I HAVE to get my hands on one of these crates!
If you want to order a Wizarding World LootCrate for yourself — and you know you do! — head over to the Lexicon's Support page and purchase through our link. It won't cost you any more, but a small percentage of the purchase price will go to help support the Lexicon website.
Commentary