"the story, the beauty, and the magic of harry potter"
-- the subtitle of the site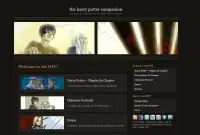 Back in 2009, I posted about a wonderful Harry Potter website called The Harry Potter Companion. It's run by an ex-Lexicon editor who did amazing work for our site for many years before leaving to take on other challenges. The Companion goes through the entire Harry Potter series, chapter by chapter, and displays artwork and commentary for each chapter.
The site recently changed its web address which unfortunately left the old address to be grabbed by folks who wish to do your computer harm. As a result, any old links you have to the Companion could lead you to malicious sites.
We are changing all our links to make sure they're safe. You don't want to miss visiting this amazing celebration of the Harry Potter story. We're in the process of linking each of the Companion's chapter pages to the "From the Web" section of our own chapter pages. However, since many internal links on the Companion site still link back to the old domain, the site simply isn't safe at the moment. I've had to use Task Manager to close my browser several times while trying to navigate the site and finding myself locked in a fake security warning.
Here's what you need to know to stay safe!
Old URL (DO NOT CLICK!): http://hpcompanion dot com
We'll post the new URL once the site is cleaned up. In the meantime, please be careful out there …
Commentary