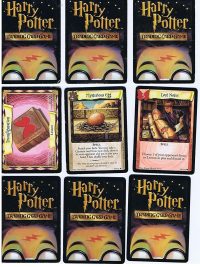 There are a number of new Harry Potter games coming out. They're all mobile games, but my favorite Harry Potter game came out quite a few years before there was such a thing as a smartphone to play it on.
Way back in 2001, Wizards of the Coast released a Harry Potter trading card game. I personally love the game and still play it whenever I get the chance – I have hundreds of cards. There were five series of cards released: the basic set, Quidditch Cup, Adventures at Hogwarts, Diagon Alley, and Chamber of Secrets. Unfortunately, the game was discontinued after the fifth series, which left a few cards broken — unbeatable in certain combinations. Typically broken cards are fixed in subsequent series by cards designed to counter the problems. But since there never was another series, those cards remain broken.
It was also clear that the designers were going to make it possible to create very specific decks, such as House decks or decks devoted to plants or owls. Again, since the game was discontinued, not enough of these specialty cards were released to make these kinds of decks work very well, which is a bummer.
Interestingly, the game was the first place some tidbits of Potter trivia first became known, such as Flitwick's first name. Year later, his name was given in canon as Filius, exactly as the card indicated, which suggests that the Wizards of the Coast had some inside information. We'll never know.
Since we can't verify if the facts on the cards actually came from Rowling, we don't consider the cards to be canon. It's too bad, because the cards also reveal a first name for Madam Hooch: Rolanda. Sure wish we could officially put that in the Lexicon!
Podcast: Play in new window | Download (Duration: 2:09 — 2.9MB)
Subscribe: Apple Podcasts | Google Podcasts | Stitcher | RSS
Commentary
Notes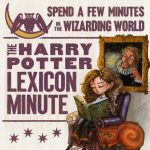 In the Harry Potter Lexicon Minute podcast you'll hear the voices of our editors sharing some of the many little things which delight us about the Wizarding World. In each podcast, just a couple of minutes in length, we'll talk about anything from cool trivia and interesting canon passages to the latest Wizarding World news. We hope you'll join us! And we'd love to hear from you as well. Feel free to use the comment section on the blogpost for each podcast to post your thoughts.
Special thanks go to Felicia Cano who gave us permission to use her amazing artwork of Hermione reading a book for the logo, which was created by Kim B.
Check out the PodBean app here
And if you want to create a podcast of your own, check out PodBean's hosting service.
Music: "Winter Chimes" Kevin MacLeod (incompetech.com)
Licensed under Creative Commons: By Attribution 3.0 License
http://creativecommons.org/licenses/by/3.0/
Pensieve (Comments)