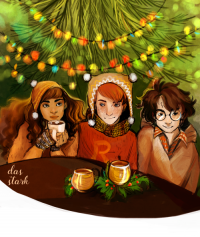 While I read these chapters, I always look for something interesting to record a podcast about. When I read chapter 21, no one thing stood out as the topic to discuss, but a couple of tidbits did catch my eye. I'll run through them for you.
First, I hadn't remembered that list of Prefect duties which occupied so much of Ron and Hermione's time in the lead-up to Christmas. They were responsible, along with the other Prefects, for the decorations of the castle. In past years we've heard about Hagrid dragging in twelve Christmas trees for the Great Hall and Flitwick decorating them with live fairies. We've heard about suits of armor bewitched to sing carols whenever someone passed by — and Peeves hiding inside the armor adding rude lyrics of his own to the songs. Now we find out that the Prefects have all had a hand in the decorating, and that Peeves makes things difficult for them.
But more than the decorating, I certainly hadn't remembered that the Prefects had to monitor the First and Second Years on their breaks, since the kids couldn't go outside due to the wintry weather. Speaking as a teacher, I find this particularly humorous. None of us teachers like monitoring what we call "indoor recess." Seems like Ron didn't care for it much either.
Second, I love the way Rowling describes the scene with Cho under the mistletoe. Now I'm sixty years old and it's been a long, long time since my first kiss, but I can still remember what it felt like. Rowling perfectly captures the cascade of bewildering emotions leading up to that moment, and then steps away to let us readers fill in the rest of the scene for ourselves. Beautifully and deftly done.
And then the scene afterwards, in the Common Room! I think it's a favorite scene of many, many fans, particularly Hermione's matter-of-fact description of everything Cho was feeling, Ron's astonished response, and Hermione's classic line "Just because you've got the emotional range of a teaspoon doesn't mean we all have."
The third thing that struck me was Harry's feelings about Hogwarts as Christmas approached. Remember I've been pointing out how everything that's important to Harry, everything that gives him emotional support, and everything that he feels makes him special is being ripped away in this book. Here's a stunning example, one which I hadn't even noticed before. Here's what it says:
In any case, he did not want to think about Christmas. For the first time in his school career, he very much wanted to spend the holidays away from Hogwarts. Between his Quidditch ban and worry about whether or not Hagrid was going to be put on probation, he felt highly resentful towards the place at the moment.
Hogwarts is Harry's home, his grounding, where he feels safe. Now that, along with everything else, is wrecked. As I said, things in book five get a lot worse before they get better. But get better they will. We just have to wait another fifteen chapters or so.
Podcast: Play in new window | Download (Duration: 3:35 — 4.2MB)
Subscribe: Google Podcasts | Stitcher | RSS
Commentary
Notes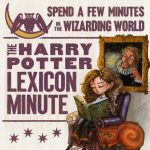 In the Harry Potter Lexicon Minute podcast you'll hear the voices of our editors sharing some of the many little things which delight us about the Wizarding World. In each podcast, just a couple of minutes in length, we'll talk about anything from cool trivia and interesting canon passages to the latest Wizarding World news. We hope you'll join us! And we'd love to hear from you as well. Feel free to use the comment section on the blogpost for each podcast to post your thoughts.
Special thanks go to Felicia Cano who gave us permission to use her amazing artwork of Hermione reading a book for the logo, which was created by Kim B.
Check out the PodBean app here
And if you want to create a podcast of your own, check out PodBean's hosting service.
Music: "Winter Chimes" Kevin MacLeod (incompetech.com)
Licensed under Creative Commons: By Attribution 3.0 License
http://creativecommons.org/licenses/by/3.0/
Pensieve (Comments)