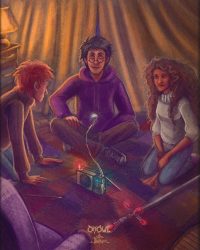 I did something recently that I haven't done in, well, almost two decades. I took a break from Harry Potter. Maybe this has happened to you at some point too. Real life becomes just too much and you have to give something up. For me, it was too many shows to direct and produce in too short a time along with a complete remodel of the school where I work, all within a four month period, plus a road trip halfway across the country. Something had to give.
So the Harry Potter Minute podcast went on hiatus. I stopped working directly on the Lexicon, although I still handled any questions from the editors and tried to keep up with the comments and feedback. The Lexicon has a fantastic team of editors so I knew the site wouldn't suffer. It was a very busy, odd couple of months.
And now it's June. School is out. Road trip is over. I'm back at my desk, ready to charge back into it.
I have to say, it's fun to jump back in. I really did miss the Wizarding World. I missed reading a chapter or two every week just to keep it fresh in my mind. I missed editing Lexicon entries and digging into canon for obscure references. And I really missed doing the Harry Potter Lexicon Minute podcasts.
So the podcasts are starting up again. The first new episode will air on Saturday and we'll be on every Wednesday and Saturday after that. Eileen Jones is back with more episodes of her "Cursed Child" series. I have eight more chapters of Order of the Phoenix to talk about. I've already received a number of scripts from our other editors, so the schedule is filling in fast. I'll also be putting new episodes on Patreon for our supporters there. Remember, if you're a Patreon supporter at the $3 level you get early access to podcasts plus a few bonus podcasts here and there.
I know you'll enjoy the new season. If you can, please rate and review us wherever you get your podcasts, and recommend us to your friends!
It's good to be back. Watch for the first new episode to be in your feed on Saturday!
Podcast: Play in new window | Download (Duration: 2:08 — 2.9MB)
Subscribe: Apple Podcasts | Android | Google Podcasts | Stitcher | RSS
Commentary
Notes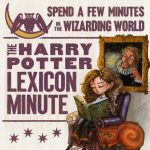 In the Harry Potter Lexicon Minute podcast you'll hear the voices of our editors sharing some of the many little things which delight us about the Wizarding World. In each podcast, just a couple of minutes in length, we'll talk about anything from cool trivia and interesting canon passages to the latest Wizarding World news. We hope you'll join us! And we'd love to hear from you as well. Feel free to use the comment section on the blogpost for each podcast to post your thoughts.
Special thanks go to Felicia Cano who gave us permission to use her amazing artwork of Hermione reading a book for the logo, which was created by Kim B.
Check out the PodBean app here
And if you want to create a podcast of your own, check out PodBean's hosting service.
Music: "Winter Chimes" Kevin MacLeod (incompetech.com)
Licensed under Creative Commons: By Attribution 3.0 License
http://creativecommons.org/licenses/by/3.0/
Pensieve (Comments)