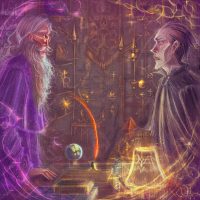 In Half-Blood Prince, Dumbledore shows Harry the memory in which he interviews Tom Riddle for a job at Hogwarts. I have a lot of questions about Dumbledore's motives for allowing even this level of consideration. He does have a little bit of a thing about manners, which we see when he rebukes the Dursleys for their conduct when he visits them, when he chats with Harry about why they can't simply apparate directly into Slughorn's home, and every time he insists that Harry use honorifics. But presumably, he has even more of a thing about protecting the students of his school. Remember that when he taught Transfiguration, the Chamber of Secrets opened, and Myrtle began her eternal moan. And considering that he taught Leta Lestrange and Newt Scamander, it seems likely he saw some shenanigans then as well. Dumbledore alludes to rumors he has heard about Voldemort, and Voldemort denies them, suggesting they are the product of his success. "Greatness inspires envy, envy engenders spite, spite spawns lies."
My theory is that Dumbledore strongly suspected that these rumors–presumably that the young Voldemort had killed his father and made a Horcrux–were true, but that he wanted to see his former student for himself to confirm his suspicions. But I do wonder whether he had actually considered hiring Voldemort, just to keep an eye on him–especially if he thought he could still save him from continuing on his malevolent road to immortality. Dumbledore certainly made a habit of employing questionable Defense Against the Dark Arts teachers once Harry arrived–although that is probably due to the curse Voldemort cast on the position. It's also interesting to think about how Snape uses his being denied the DADA position as continued evidence that he is not entirely trusted by Dumbledore. It was never entirely clear to me whether Snape truly wanted to teach Defense Against the Dark Arts–to me, he seems too deeply enamored with potions to want to spend time on much else. But the rumor that he has been denied the Defense position does seem to strike a chord with Voldemort, who seems to trust him despite overwhelming suspicion among his other followers.
Podcast: Play in new window | Download (Duration: 2:20 — 3.0MB)
Subscribe: Google Podcasts | Stitcher | RSS
Commentary
Notes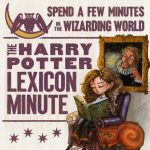 In the Harry Potter Lexicon Minute podcast you'll hear the voices of our editors sharing some of the many little things which delight us about the Wizarding World. In each podcast, just a couple of minutes in length, we'll talk about anything from cool trivia and interesting canon passages to the latest Wizarding World news. We hope you'll join us! And we'd love to hear from you as well. Feel free to use the comment section on the blogpost for each podcast to post your thoughts.
Special thanks go to Felicia Cano who gave us permission to use her amazing artwork of Hermione reading a book for the logo, which was created by Kim B.
Check out the PodBean app here
And if you want to create a podcast of your own, check out PodBean's hosting service.
Music: "Winter Chimes" Kevin MacLeod (incompetech.com)
Licensed under Creative Commons: By Attribution 3.0 License
http://creativecommons.org/licenses/by/3.0/
Pensieve (Comments)