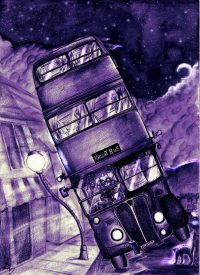 Welcome to the third book in the series, The Prisoner of Azkaban! Many fans consider this to be their favorite Harry Potter novel. Harry is another year older, another face-off with Voldemort under his belt. What could be in store for him and his friends this year?
Let's crack the new adventure open and find out!
Podcasts:
Canon Thoughts: Book Three by Steve VanderArk
Chocolate by Selena Gallagher
Pets at Hogwarts by Ashmita Shanthakumar
Reader's Guides: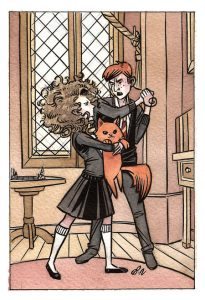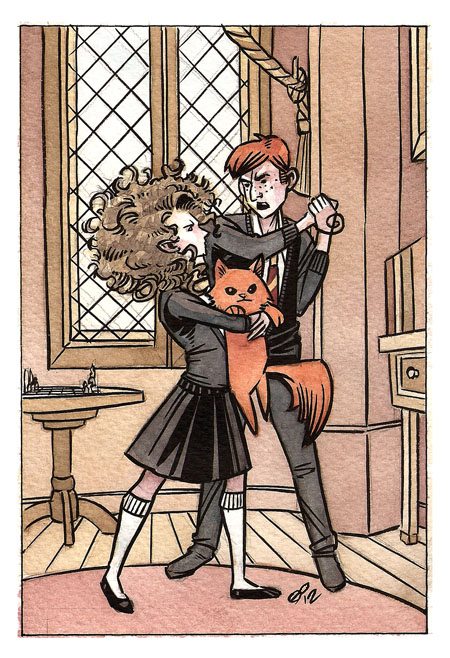 These guides were originally written in March of 2002. Since that time, a few edits were made here and there but basically the text remained the same. To get ready for this Canon Celebration, our editors have been revising each one. We've added fan artwork to the Guide which illustrates the text. At the bottom in the Commentary section we've added a gallery of additional artwork. So even if you've read our guides before, please give them another look. And if you're doing a re-read of the first book, have the Guide to each chapter open as you go! I'm sure you'll find a lot of information you didn't know.
Calendars
Fitting the books into the real-life calendars isn't easy! In fact, it's impossible. But that didn't stop us:
Day by day calendar of events in the book
Essays
Where Does the Name "Knight Bus" Come From? by Morag Traynor and Susan
Harry's Things by Morag Traynor
Interesting Artwork
We have hundreds and hundreds of pieces of fan artwork in our collection. Some subjects get a lot of depictions — Diagon Alley is a favorite topic, for example, and, well, of course it is! But there are a few pieces which illustrate more unusual moments in the text. Here are some examples: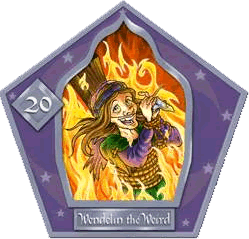 Wendelin the Weird enjoyed being burned so much that she allowed herself to be
caught no less than forty-seven times in various disguises. (PA1)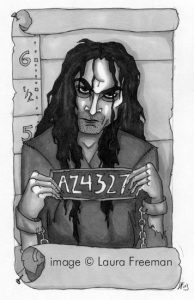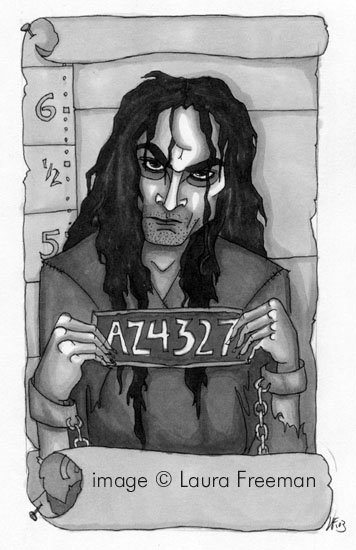 Harry had never met a vampire, but he had seen pictures of them
in his Defence Against the Dark Arts classes, and Black, with his waxy white skin, looked just like one. (PA3)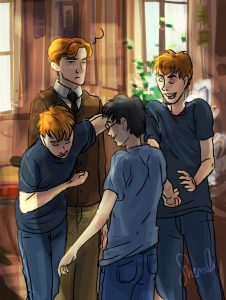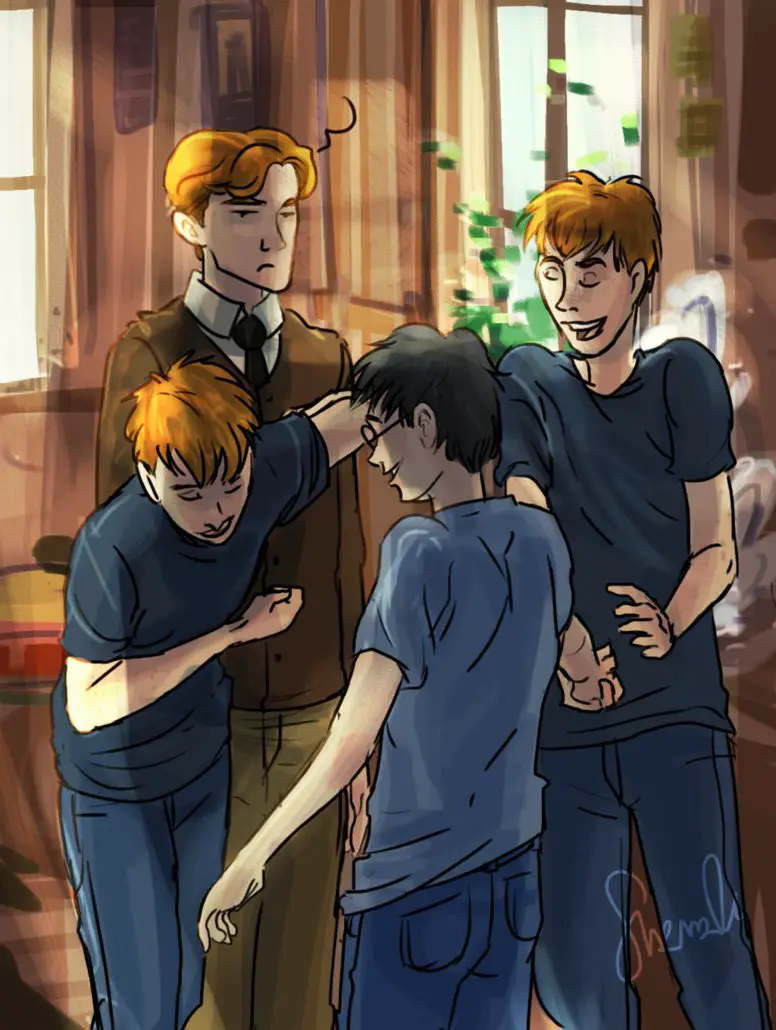 Percy pompously greeting Harry – and Fred & George going over the top imitating him (PA4)
Artwork Challenge
These first few chapters provide a goldmine of topics for this week's Artwork Challenge! How many can you illustrate? Here are some ideas we'd love to see brought to life:
the Dursleys admiring Vernon's company car "in very loud voices, so that the rest of the street would notice too"
Ron attempting to call Harry on the telephone
Harry's birthday presents–a Sneakoscope, a broom-care kit…
the Weasleys in Egypt
Harry picking the lock on the downstairs cupboard
one of Harry's memories: Aunt Marge's dog Ripper chasing his 9-year-old self up into a tree
Harry summoning or riding on the Knight Bus
Tom the landlord of the Leaky Cauldron
Harry first meeting the Minister of Magic
If we really like your work, we may feature it in the Lexicon! Send your artwork to [email protected]. By submitting it, you are giving us permission to display your work on the Lexicon. We would like to include your name with your artwork so you are properly credited, so when you send your work let us know what name to use. Please also include a way to get a hold of you so that if we decide to feature your work as part of our regular collection we can contact you for more details. All artwork we display remains the property of the artist and they retain all copyright.
From the Atlas
Atlas Guide to our favorite wizarding marketplace
Coming up next week…
We will be moving on to the next set of chapters, 6 through 11, of Prisoner of Azkaban. Come explore with us!
Podcast: Play in new window | Download (Duration: 5:43 — 6.2MB)
Subscribe: Google Podcasts | Stitcher | RSS
Commentary
Notes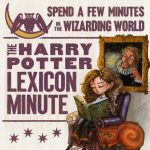 In the Harry Potter Lexicon Minute podcast you'll hear the voices of our editors sharing some of the many little things which delight us about the Wizarding World. In each podcast, just a couple of minutes in length, we'll talk about anything from cool trivia and interesting canon passages to the latest Wizarding World news. We hope you'll join us! And we'd love to hear from you as well. Feel free to use the comment section on the blogpost for each podcast to post your thoughts.
Special thanks go to Felicia Cano who gave us permission to use her amazing artwork of Hermione reading a book for the logo, which was created by Kim B.
Check out the PodBean app here
And if you want to create a podcast of your own, check out PodBean's hosting service.
Music: "Winter Chimes" Kevin MacLeod (incompetech.com)
Licensed under Creative Commons: By Attribution 3.0 License
http://creativecommons.org/licenses/by/3.0/
Pensieve (Comments)