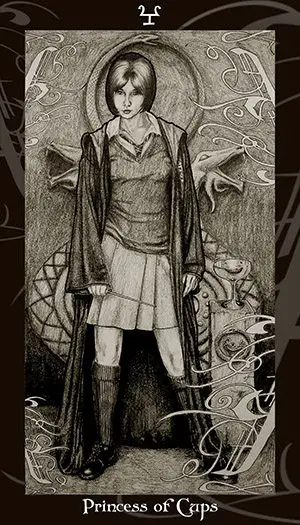 "And to close out the family, here's Pansy Parkinson, Draco's girlfriend, as the Princess of Cups.
We know little of her apart from the fact that she seems truly devoted to Draco and completely in sympathy with his likes and dislikes. Her emotional attachment certainly makes her a good candidate.
The Princess of Cups is sometimes thought of as the soul incarnate in matter, so I added some symbolism to that effect, like the serpent and oil lamp, taken from a Roman burial stele. The Princess also denotes the person at the beginning of the path of mastery, so I have not yet given her her cup to hold, just placed it besides her. She will have to go a long way, before she can sit on her throne, her cup firmly in her grasp.
Pansy's pose is based on fabulous stock by :iconfaestock:"
HP Tarot – Princess of Cups
Commentary
Image title supplied by the artist.
Comments