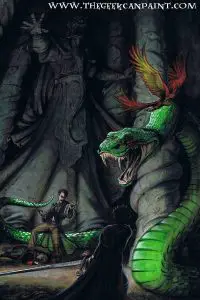 NOTE: This calendar is NOT formatted for smaller screens. We are working to create a version which will work on any size device, but that's a bit trickier than you might think with the calendar layout. Since this is a direct port from an outdated system, some of the formatting might be a bit wonky and some links may not work. 
"Very well, so you found out where the entrance was — breaking a hundred school rules into pieces along the way, I might add — but how on earth did you all get out of there alive, Potter?"
— Minerva McGonagall
The calendars which follow were carefully researched and are based on various references in the canon. The only specific reference to the year in the books is the date on Nearly Headless Nick's Deathday cake in this book. That date, by which we can determine that book two takes place in 1992-93, has been verified by Rowling. Warner Bros. has stated that a short timeline for the series was approved by her for the release of the DVD of Chamber of Secrets. According to that Official Timeline (CS/dvd), Harry Potter was born on July 31, 1980. Therefore the events of this book begin on July 31, 1992, Harry's 12th birthday.
Events which are specifically listed on that timeline are indicated on this calendar in red.
Curiously,Valentine's Day in 1993 fell on a Sunday. It seems unlikely that Hogwarts holds classes on Sunday, but as Harry was on his way to Charms class when he was stopped late on Valentine's Day afternoon by the dwarf with the singing Valentine, we're stuck with it.
July 1992 – July 1993 
JUL – AUG – SEP – OCT – NOV – DEC – JAN – FEB – MAR – APR – MAY – JUN
SUNDAY
MONDAY
TUESDAY
WEDNESDAY
THURSDAY
FRIDAY
SATURDAY
references
26
27
28
29
30
31
Harry's 12th birthdaydinner party with the MasonsDobby visits HarryHarry receives a warning by owl from the Ministry of Magic
Aug 1
bars put on Harry's window
CS1, CS2
Aug 2
3


nine Ministry raids overnight

Harry rescued by flying car
4
Harry arrives at the Burrow in time for breakfast
5
6
7
8
CS3
Aug 9
10
11
12
letters from schoolQuidditch practice in the Weasleys' paddock
CS4
Aug 16
17
18
19


trip to Diagon Alley

Harry accidentally visits Knockturn AlleyLockhart book signing at Flourish & Blotts
20
21
22
CS4
Aug 23
24
25
26
27
28
29
Aug 30
31
end of holidaysdinner and fireworks at the Burrow
Sept 1


trip on the Hogwarts Express

barrier closedRon and Harry travel by flying car to schoolGinny Weasley is Sorted into Gryffindor
2
first day of term

Ron receives a Howler from his mother

3
double herbologytransfigurationlunch

DADA Lockhart gives a quiz about himself, then unleashes Cornish pixies

4
charms (AM)
5
dawn Quidditch practiceRon's slug attackdetentions
8pm-midnight:
Ron polishes trophies, Harry answers fan mail

Harry hears the basilisk's voice for the first time

CS5, CS6,CS7
Sept 6
7
8
9
10
11
12
Sept 13
14
15
16
17
18
19


Hermione's birthday

PA4,HBP17,HBP18,HBP22,JKR
Sept 20
21
22
23
24
25
26
Sept 27
28
29
30
Oct 1
2
3
CS8
cold and flu going around
Oct 4
5
6
7
8
9
10
Oct 11
12
13
14
15
16
17
Oct 18
19
20
21
22
23
24
Quidditch practice in the rainHarry caught by Filch "befouling the castle," rescued by Nearly Headless Nick
CS8(cont.)
Oct 25
26
27
28
29
30
31
HALLOWEENNearly Headless Nick's 500th Deathday Party 7pmHarry hears voice for second timefirst attack: Mrs. Norris petrified
CS8(cont.)
Nov 1
2
3
4
potions right before lunchlunchHistory of Magic discussion of Chamber legendfirst visit to Moaning Myrtle's bathroom
5
DADA
after which
Hermione gets Lockhart's signature for Most Potente Potions and
they get the book from the library
6
7
Quidditch: Gryffindor vs. Slytherin, 11am
Gryffindor winsrogue Bludger breaks Harry's arm, Lockhart then debones the arm
CS9,CS10
Nov 8
very early AM
Dobby visits Harry in hospital
also:
second attack: Colin Creevey petrifiedHermione and Ron work on potion in bathroom
9
rumors flying, roaring trade in amulets and talismans
10
11
12
13
14
CS11
Nov 15
16
17
18
19
20
21
CS11
Nov 22
23
24
25
26
27
28
CS11
Nov 29
30
Dec 1
2
3
4
5
CS11
Dec 6
polyjuice potion half finished
7
McGonagall takes names of those staying at Hogwarts over Christmas
8
9
10
double potions (afternoon) during which
Hermione steals potion supplies from Snape's office
11
12
CS11
Dec 13
14
15
16
17


dueling club 8pm, Great Hall

Harry speaks Parseltongueblizard begins
18
blizzard covers schoollast herbology class of term cancelledsecond rooster killed

third attack: Justin Fitch-Fletchley and Nearly Headless Nick petrified 

transfiguration
19
CS11
Dec 20
21
End of TermHogwarts Express back to London
22
23
24
25
CHRISTMASnoon feast

polyjuice potion finished, Harry and Ron "become" Crabbe and Goyle

Hermione in hospital with furry face and tail
26
CS12
Dec 27
28
29
30
31
Jan 1
2
CS12 


Hermione in hospital

Jan 3
Hogwarts Express back to school
4
start of term
5
6
7
8
9
CS13 


Hermione in hospital

Jan 10
11
12
13
14
15
16
CS13 


Hermione in hospital

Jan 17
18
19
20
21
22
23
CS13 


Hermione in hospital

Jan 24
25
26
27
28
29
30
CS13 


Hermione in hospital

Jan 31
Feb 1
Hermione leaves hospital
2
3
4
5
6
CS13
mandrakes are getting secretive and moody
Feb 7
8
9
10
11
12
13
CS13
Feb 14
Lockhart's Very Special Valentine's DayCharms (PM)Harry talks to Tom Riddle by means of the diary
15
16
17
18
19
20
CS13
Feb 21
22
23
24
25
26
27
CS14
Feb 28
Mar 1


Ron's birthday

2
3
4
5
6
CS14
Mar 7
8
9
10
11
12
13
CS14
Mar 14
15
16
17
18
19
20
CS14
Mar 21
22
23
24
25
26
27
CS14
Mar 28
29
30
31
Apr 1


the twins' birthday

2
3
CS14
(cont.)
Apr 4
5
6
7
8
9
10
CS14
Apr 11
Easter Sunday
12
13
14
15
16
17
CS14
Apr 18
19
20
21
22
23
24
CS14
Apr 25
26
27
28
29
30
May 1
CS14
May 2
3
4
5
6
7
8
Quidditch: Gryffindor vs. Hufflepuff match cancelled

fourth attack: Hermione Granger and Penelope Clearwater petrified

Dumbledore removed as headmasterHagrid taken to Azkaban
CS14
May 9
10
11
12
13
14
15
CS14 


Hermione in hospital

May 16
17
18
19
20
21
22
CS14 


Hermione in hospital

May 23
24
potionsherbologyDADA

Harry and Ron meet Aragog in the Forbidden Forest late at night

25
transfiguration
26
27
28
29
mandrakes are ready for cutting

Ginny taken into Chamber

Harry, Ron, Lockhart enter Chamber at sunsetHarry defeats Tom Riddle in the Chamber of Secrets
CS15,CS16,CS17 


Hermione in hospital

May 30
Lucius Malfoy sacked as school governorDobby freedearly AM feastall victims un-petrifiedHagrid returns 3:30 AM
31
June 1
exams (cancelled)
2
3
4
5
CS18
June 6
7
8
9
10
11
12
CS18
June 13
14
15
16
17
18
19
Hogwarts Express back to London
CS18
June 20
21
22
Dudley's birthday
23
24
25
26
Ron tries to call Harry on the telephone
PA1
June 27
28
29
30
July 1
2
3
PA1
July 4
5
6
7
8
9
10
PA1
July 11
12
13
14
15
16
17
PA1
July 18
19
20
21
22
23
24
PA1
Commentary