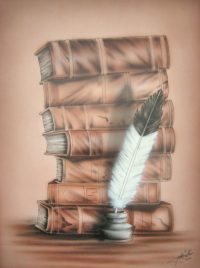 When each of the Harry Potter novels was published, a dedicated group of fans combed through the book to work out the exact days on which each of the events occurred. Some of the events were easy to pinpoint, since the date was specifically stated in the text. Other events were just as easy since they were talked about in relationship to events in the first category. Some events took a little more a sleuthing to work out using offhand remarks by characters or references in the text. And naturally, some events simply had to be estimated based on either the real-world calendar for those years or other benchmark dates.
The results of the work of these fans, led by the indomitable Amy Z, were day-by-day calendars of the entire saga, from the death of Harry's parents and the first letters arriving in Privet Drive to the final Battle of Hogwarts and the epilogue nineteen years later. Because of the nature of the work done, these calendars cannot be entirely considered canon. Many dates are verified canon, of course, but others are bit less precise. Even so, fans have found these calendars to be extremely useful and they're still some of the most often accessed pages on the Harry Potter Lexicon website.
When we brought all the information from the Harry Potter Lexicon over from the original hand-coded HTML pages into the new format which can be accessed on any device and any sized screen, the calendars presented a problem. They were hard-coded into tables which wouldn't resize the way modern web resources are supposed to do. So while we tackled the problem of how to port the calendars over, we left them on the old site with links back from the new one. This wasn't an ideal situation — we intended to replace everything from the old site and retire it.
We're still working on creating a new workable format for the calendars. In the meantime, we've brought them over in their original messy, oversize format so that fans can at least access them.
NOTE: These calendars are NOT formatted for smaller screens. Since these are a direct port from an outdated system, some of the formatting might be a bit wonky and some links might not work. 
Day-by-Day Calendars of the Harry Potter Saga
Commentary