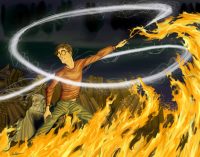 NOTE: This calendar is NOT formatted for smaller screens. We are working to create a version which will work on any size device, but that's a bit trickier than you might think with the calendar layout. Since this is a direct port from an outdated system, some of the formatting might be a bit wonky and some links might not work. 
Edited by John Kearns
The numbers following some descriptions are chapter/page references: HBP29/628 means chapter 29, page 628 of the first hardcover US edition (like all good purists, we embrace the UK edition as the standard, but we're working from the first hardcover US edition at the moment, so bear with us. Events in blue are approximate dates. The lettered items in the calendar have corresponding notes below.
SUNDAY
MONDAY
TUESDAY
WEDNESDAY
THURSDAY
FRIDAY
SATURDAY
references
(date and day unknown)

Amelia Bones and Emmeline Vance killed, Bridge destroyed, Dementors breeding

 (date unknown; the end of a "long week")

Fudge and Scrimgeour visit Prime Minister

HBP01
(date and day unknown)

Bella and Narcissa go to see Snape; Snape makes Unbreakable Vow

HBP02
Jul 7
8
9

Harry receives letter from Dumbledore

10
11
12

Dumbledore comes to 4 Privet Drive to pick up Harry, chats with Dursleys

Harry and Dumbledore visit Slughorn, convince him to teach

13

Harry delivered to Burrow shortly after midnight

O.W.L. results arrive

HBP03
HBP04
HBP05
14
15
16
17
18
19
20
21
22
23
24
25
26
27
28
29
30
31

Harry's birthday

Aug 1

Hogwarts booklists arrive

2
3

Trip to Diagon Alley

Harry has run-in with Draco and Narcissa in Malkin's

Visit to Weasleys' Wizard Wheezes

Trio overhears Draco in Borgin and Burke's

HBP06
4
5
6
7
Aug 8
9
10
11
12
13
14
Aug 15
16
17
18
19
20
21
Aug 22
23
24
25
26
27
28
Aug 29
Aug 30
Aug 31

Harry ponders Draco-as-
Death-Eater

Laundry

HBP07
Sept 1

Hogwarts Express

Harry tells Mr. Weasley about Malfoy at Borgin&Burkes

First meeting of the Slug Club (on train)

Harry sneaks into Malfoy's compartment, gets stunned

Tonks rescues him, Snape takes him to feast

Opening feast

2

Class schedules handed out

DADA class: Snape tries to jinx Harry, Harry retaliates and gets detention

Potions: Harry gets HBP's book, wins Felix Felicis

3
4
5
6
7

Harry's first meeting with Dumbledore

Duo goes into Pensieve, sees Gaunt House and Voldemort's family

Dumbledore explains circumstances surrounding Voldemort's birth

HBP07
HBP08
HBP09
HBP10
8
9
10
11
12
13

Stan Shunpike arrested

14

Breakfast: Hermione explains Harry's popularity

Quidditch tryouts: Harry picks Ron, Ginny, Demelza, Katie, Coote, Peakes for team

Hermione confunduses McLaggen during tryout so Ron will win position

Trio visits Hagrid, learn that Aragog is dying

First Slug Club dinner

Harry serves detention with Snape – Flobberworms

HBP11
15
16
17
18
19
20
21
22
23
24
25
26
27
28
29
30
Oct 1
2
3
4
5
6
7
8
9
10
11
12
(or 19)Harry reads HBP book in bed, levitates Ron by accidentTrip to Hogsmeade, trio sees Slughorn and MundungusKatie Bell Imperiused and touches necklace, landing her in hospital for monthsHarry tells McGonagall he suspects Draco
HBP12
13
14 (or 21)

Second lesson with Dumbledore

They go into Pensieve, meet 12-year-old Riddle and discuss his personality

15 (or 22)

Herbology class

Heremione and Ron discuss Slug Club, Hermione invites Ron to Christmas party

Harry notices attraction between them

16
17
18
19
HBP13
HBP14
20
21
22
23
24
25
26
27
28
29
30
31
Nov 1
2
(date unknown=Y)

Harry invites Dean to join Quidditch team in Katie's place

Quidditch Practice – one of the worst all term

Harry and Ron run into Ginny and Dean kissing after practice, Ginny tells Ron off

Harry first attracted to Ginny

(Y+1)

Ron as touchy as average Skrewt

(date unknown=Z, night before match)

Final Quidditch practice – Ron tries to resign from team

(Z+1, Saturday)

Harry pretends to slip Ron Felix Felicis at breakfast

Gryffindor wins Quidditch match

Hermione confronts Harry about potion, Harry shows it was faked, Ron gets mad at Hermione

At post-game party, Ron snogs Lavender, Hermione gets upset and hides

Harry finds Hermione but Ron barges in and she curses him

HBP14
3
4
5
6
7
8
9
10
11
12
13
14
15
16
17
18
19
20
21
22
23
24
25
26
27
28
29
30
Dec 1
2
3
4
5
6
7
8
9
10
11
12
13
14
15
16
17
18
19

Hermione talks with Harry in library, Pince kicks them outRomilda Vane tries to slip Harry a Love Potion

20

Transfiguration: eyebrow-dyeing

Harry asks Luna to Slughorn's party

Christmas party

Malfoy caught in corridors, Snape takes him to classroom where Harry overhears Snape trying to help Malfoy

 

21

Harry and Ron return to Burrow

HBP15
22

(exact day unknown)

Harry and Ron peel sprouts while talking about Malfoy

23
24

Weasley family in living room, listening to Celestina Warbeck

Harry talks with Lupin and Arthur about Snape, Greyback

Harry tries to determine identity of HBP

25
ChristmasRon gets necklace from Lavender, Harry gets maggots from KreacherPercy and Scrimgeour show up, Scrimgeour tries to talk Harry into helping Ministry
26
27
28
HBP16
29
30
31
Jan 1
2
3
4
5

Students return to Hogwarts

Harry talks with Hermione about Snape

6

Apparition lessons sign appears

Third lesson with Dumbledore

Harry/DD watch Morfin tell Voldemort about his family

We see Slughorn's altered memory of Riddle and Horcruxes

Dumbledore gives Harry task of getting full memory

7

Potions class-
Harry asks Slughorn about Horcruxes and memory

8
9
10
11
HBP17
HBP18
12
13
14
15
16
17
18
19
20
21
22
23
24
25
26
27
28
29
30
31
Feb 1

First Apparition lesson

Harry overhears Draco talking to Crabbe

HBP18
2
3
4
5
6
7
8
Apparition lessons
HBP18
9
10
11
12
13
14
15
Apparition lessons
HBP18
16
17
18
19
20
21
22
Apparition lessons
HBP18
23
24
25
26

 

27
28
Mar 1
Ron's birthdayApparition lesson; Hogsmeade trip cancelledRon takes Romilda's love potion by mistakeHarry takes Ron to Slughorn and gets antidote, but Slughorn gives Ron poisoned mead; Harry saves his life with a bezoarWeasleys visit Ron in hospital wingHagrid lets slip that Dumbledore argued with SnapeMcLaggen corners Harry about playing keeper
HBP18
HBP19
2
3
4

(throughout week)

Lavender Brown corners Harry about Ron

5
6
7

8

Harry sees Malfoy sneaking off with lookouts

Quidditch match:
Luna commentates,  Gryffindor loses when McLaggen pelts Harry with bludger and cracks his skull

Harry in hospital wing, asks Kreacher and Dobby to tail Malfoy

 

HBP19
9
10

Harry and Ron leave hospital wing

Ginny/Dean and Ron/Lavender fight

Fourth lesson with Dumbledore

Harry sees memories of Riddle visiting Hepzibah Smith and asking for DADA teaching post at Hogwarts

11
12
13
14
15
HBP20
16

Harry talks with Ron and Hermione, realizes Malfoy is using Room of Requirement

17

Between classes, Harry tries to get into Room of Requirement

DADA class

Harry talks with Myrtle, finds she's been conversing with a boy

Hermione and Ron go for Apparition lessons in Hogsmeade

Harry runs into Tonks

18
19
20
21
22
HBP21
23
24

Easter holidays begin

25
26
27
28
29
30
31
Apr 1
2
3
4
5

End of Easter Holidays

6
7
8
9
10
11
12
13
14
15
16
17
18
19
20
21

Apparition testing

Harry tries to corner Slughorn after Potions and fails

Harry takes Felix Felicis, sees Slughorn, helps bury Aragog, and gets memory from Slughorn

Emergency meeting with Dumbledore – Harry and Dumbledore watch Slughorn's memory

Dumbledore explains Riddle's Horcruxes and the power of Harry's love

Ron/Lavender and Ginny/Dean break up

 

22

Charms: Harry explains everything to Ron and Hermione

Katie Bell returns

23
24
25
26
HBP22
HBP23
27
28
29
30
May 1
2
3
4
5
6

(exact date unknown)
Harry finds Malfoy in bathroom, uses Sectumsempra on him, gets detention from Snape for rest of year

7
8
9
10

Detention with Snape

Gryffindor wins Quidditch match without Harry and wins house cup; Harry kisses Ginny

HBP24
11
12
13
14
15
16
17
18
19
20
21
22
23
24
25
26
27
28
29
30
31
Jun 1
(day and date unknown)

Harry talks with friends about tattoos and Eileen Prince

June 30

Harry gets note from Dumbledore, who tells him they are to seek out a Horcrux

Trelawney reveals that Snape overheard prophecy

Harry gives Felix Felicis to Ron, Hermione

Harry and Dumbledore travel to cave, retrieve false Horcrux

Harry and DD return, Dumbledore confronted by Draco, Snape kills him

Harry chases Snape off grounds

Order congregates in hospital wing to discuss incidents

McGonagall asks heads of houses about closing school

July 2

Hermione discovers that Eileen Prince was Snape's mother

Trio and Ginny discuss Snape

 

July 3

Dumbledore's funeral

Harry breaks up with Ginny

Scrimgeour tries again to ask Harry for help; he refuses

Harry tells Ron and Hermione he won't be back for seventh year, they pledge to stay with him

Hogwarts Express home

HBP25
HBP26
HBP27
HBP28
HBP29
HBP30
Commentary