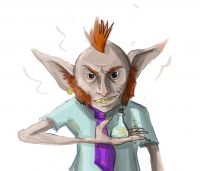 Alguff the Awful was afoul-smelling goblin nuisance. Well known throughout the goblin world for trying to sell vials of his sweat to a Dungbomb manufacturer (FW).
Alguff the Awful
Dates
fl. 19th or 20th centuries
Distinguishing Features
Foul smell
Commentary
Notes
We are not given any dates for Alguff's life. However, since he is known to have sold his sweat to a dungbomb manufacturer, and since dungbombs weren't invented until sometime in the 1800s, we can safely say that he lived in the 19th or 20th centuries.
Pensieve (Comments)
Tags: smelly/smells