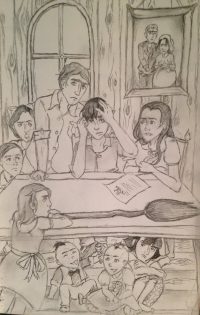 Angus Buchanan was a Squib who rose to fame playing rugby for the Scottish national side.
Angus Buchanan was the only non-magical member of the Buchanan family of the Scottish Borders. Fearing the wrath of their father, the Buchanan siblings helped to conceal Angus' lack of magic, even forging his letter from Hogwarts and buying him a wand. After the Sorting Hat declared that he was not a wizard, Angus went home in disgrace, where he was cast out by his father. He found work amongst the Muggles and developed his sporting prowess, particularly in rugby.
In 1871, Angus represented Scotland in the first ever international rugby match, helping his team to victory in front of a crowd of Muggles and the Buchanan siblings. After reuniting with his family, Angus wrote the best-seller My Life as a Squib, which brought wider attention to the plight of Squibs. He became world-famous among wizards and many started supporting him and Scottish rugby in general. After his death the Wizarding Supporters of Scottish Rugby Union (WSSRU) was established in his memory. He is also remembered at Hogwarts, where the Angus Buchanan Cup for Outstanding Effort is awarded each year (Pm).
Family
Third of eleven children in the Buchanan family. He has an older brother named Hamish and an older sister named Flora.
Skills
Exceptional talent in sports, especially rugby and cricket.
Commentary
Tags: fame famous rugby sports sportsmanship