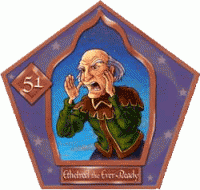 Ethelred the Ever-Ready was a wizard famous for taking offense at nothing and for cursing innocent bystanders. He died in jail (FW).
Skills
Ever-ready to start a fight.
Ethelred the Ever-Ready
Distinguishing Features
Cursing and yelling at others
Commentary
Etymology
Old Saxon athal meaning "noble", and ræd meaning "counsel" or "advice"
Name is probably a pun on the English king Aethelred the Unready.
Pensieve (Comments)