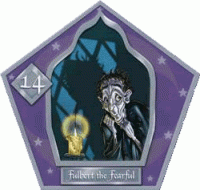 Fulbert the Fearful was a wizard who was famous for being so cowardly he never ventured out of his house. He died when a Defensive Charm backfired and the roof fell in (FW).
Skills
Defensive Magic
Fulbert the Fearful
Distinguishing Features
Afraid of Everything
Commentary
Notes
Fulbert of Chartres was a priest who lived in Medieval France, born around 962, and who was responsible for the construction of Chartres Cathedral, and the reconstruction after it burned several times. He was never actually ordained a "saint," but was said to have a "saintly nature."
Pensieve (Comments)