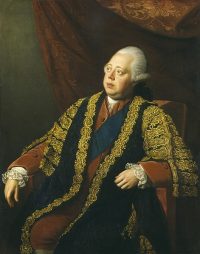 Frederick North, 2nd Earl of Guilford – better known as Lord North – was the British Prime Minister from 1770 to 1782.
In 1782, Lord North confidentially asked Minister for Magic Porteus Knatchbull if he could remedy the mental instability of King George III. Unfortunately for Lord North, word of his bizarre belief in wizards got out and he was forced to resign (Pm).
Commentary
Notes
In reality, Lord North was forced to resign after a motion of no confidence in response to his handling of the American Revolution (Wikipedia).
Pensieve (Comments)
Tags: government history leaders leadership muggle government