"Tamper with the deepest mysteries – the source of life, the essence of self – only if prepared for consequences of the most extreme and dangerous kind."
-- Adalbert Waffling (TBB-WHH)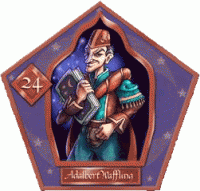 The "Fundamental Laws of Magic" are mentioned by Albus Dumbledore in his notes on the story "The Warlock's Hairy Heart" (WHH), which is one of the Tales of Beedle the Bard (TBB). He credits these laws to the magical theoretician Adalbert Waffling.
Commentary
Notes
It is unconfirmed whether these laws are laid out in Adalbert Waffling's book Magical Theory (a set text for first year students at Hogwarts), or if they are included in another book by the same author.
Related images:
Pensieve (Comments)
Tags: books magic magical theory