'"Warlock's Hairy Heart" is really ... quite gothic.  It's quite dark, that one.  And Voldemort would've done well to know that story before he set out on his campaign of terror.'
-- J.K. Rowling (PC/JKR1)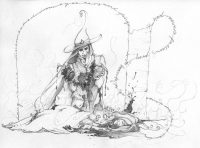 "The Warlock's Hairy Heart" is a wizarding world fairy tale, part of the collection The Tales of Beedle the Bard. This dark, "gothic" tale tells of a young warlock who removes his own heart by terrible Dark Arts to protect himself from the foolishness of love. When he meets a witch who he wants to win for himself, his folly results in the both of their deaths.
Characters Introduced
TBB
— The Warlock's Hairy Heart
Publication
December 13, 2007
Abbreviation
WHH: The Warlock's Hairy Heart
Commentary
Tags: beauty/beautiful black dark deaths feast gold hair hairy heart loneliness love old protection scarlet white wife