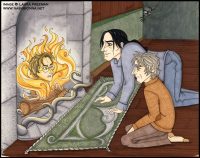 The editor for the Characters section of the Lexicon was Lisa Bunker who was also the founder of Accio Quote. So it was a natural fit for her to collect quotes by and about the main characters in the books as she worked to bring each character's biography up to date. The project was never completed, but the pages are still very popular, so we're in the process of bringing them over to the new Lexicon. Here's an index of all the quote collections. The links will take you either to the new quote pages or back to the legacy pages as we work to add them all in. Eventually, we'd like to finish adding quotes from the last book to complete the pages. Feel free to use the comment section of each page to suggest additions.
Book Quotes
Quotes from…
Creatures
Muggles
Primary editor: Lisa Waite Bunker. Compiled by: Lisa Waite Bunker and Lori Damerell.
Original page date 29 August, 2005; Last page update 8 October, 2007.
Commentary
Pensieve (Comments)