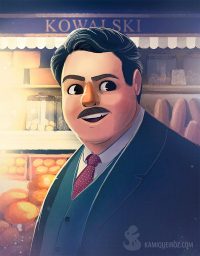 One of the lines from "Fantastic Beasts and Where to Find Them" that has always bothered me was Jacob Kowalski's statement that "I only got back in '24." "From Europe…I was part of the Expeditionary Forces there." The First World War ended in November 1918. Why did it take Jacob so long to get back home?
Let's go back to the beginning, Jacob's beginning. There is very little background information about Jacob in canon (WFT). Therefore, we must depend on the books written about the making of the films and trust that the information in them was, at least, approved by JKR. We don't  consider the film tie-in books or DVD extras to be canon, so the references to those below are not canon but speculation based on non-canon sources.
According to the loan application Jacob presented at the bank when seeking a loan for his bakery, he was 26 years old on 5 December 1926. (8) Two sources mention that his family originally came from Poland (2,7) and it is assumed so due to his Polish bakery treats. "Two of Jacob's trademark treats are bibka and Pączki pastries, which he makes according to the recipes of his Polish grandmother." And by the fact "Jacob resides in a Polish neighbourhood on the Lower East Side." (2) and "Though Jacob is Polish by birth, he desires nothing more than to live the American dream: to get married and start his own business." (2)
Therefore, we know that Jacob was born c1900 in the area now known as Poland. At the time the country was divided between the German, Russian and Austro-Hungarian Empires. No city is mentioned so we don't know exactly where Jacob's birthplace is today. It is most likely that Jacob would have immigrated to the U.S. not long after his birth but before 1914 when the European continent became embroiled in war. Dan Fogler played Jacob with a Brooklyn accent which he would probably not have developed had he immigrated in his teens or pre-teen years. This would suggest he was quite young when his family brought him to America. We know nothing about any family members excepting his grandmother though a deleted scene in the DVD/Blu-ray release suggests he had a brother who was killed in the war.
It is unlikely that Jacob would have joined the United States Army prior to America's entry into the First World War as he would have been too young. The Selective Services Act of 1917 required all men between 21-31 to register for Military Service. The Act was amended in August and again in September 1918 to widen the age from 18-45 (10) which would have included Jacob. Whether he enlisted or was drafted is immaterial as either event would have happened in 1918.
The date Jacob was sent overseas is also unknown as is the amount of action he would have seen. "As a veteran of World War I, he has seen and survived terrible things." (7) This suggests he may have taken part in either the Battle of Saint-Mihiel or the Meuse-Argonne offensive. (9) With the end of the war in November 1918 three courses of action were open to Jacob. He could return to the U.S, with the other returning troops for demobilization; he could become a member of the U.S. Third Army, which was created by General Pershing at the end of 1918 to perform occupation duties; or he could be discharged in Europe and remain there. As he obviously did not do the first, he must have done one of the other two or a combination of both.
The Third Army was disbanded on 2 July 1919 but would remain in Germany for another three years as the American Forces in Germany. As the United States had not signed the Treaty of Versailles in 1919 it remained in a state of war with Germany until a separate peace was signed in the summer of 1921. The remainder of American forces then returned to the States except for Jacob. "He stayed on his birth continent for six years after the war, before deciding to travel back to America to start a new life." (3) "He's literally the last guy back. Like no one told him it was over." said Dan Fogler who plays Jacob. (8)
The answer to that question probably resides in this sentence; "A photograph of Jacob's beloved grandma adorns the wall of his apartment." (8) Due to his strong affection for his grandmother I believe Jacob, upon leaving the army, whenever than happened, traveled East to the newly established Second Polish Republic to see his grandmother and possibly his pigeon-raising, grandfather (FWT). Finding the country economically and politically unstable he decided to stay with his grandmother to look after her and learn to be a baker. "Two of Jacob's trademark treats are bibka and Paczki pastries, which he makes according to the recipes of his Polish grandmother." (2) If Jacob did indeed fondly remember his grandmother that would suggest he went to America when he was about 5 or 6.
With the probable death of his grandmother in 1924, Jacob decided to return to the U.S. "along with the cookbook inherited from his grandma." (8) "Though Jacob is Polish by birth, he desires nothing more than to live the American dream: to get married and start his own business." (2)
Exactly where he lived after returning to the States in 1924 is unknown for apparently it was not until "… his homecoming to the Big Apple in 1926, Jacob gets mixed up in the adventures of Newt Scamander" (Pm).
Commentary
Notes
Sources:
1 - Fantastic Beasts and Where to Find Them: The Original Screenplay – J. K. Rowling – 2016
2 - Fantastic Beasts and Where to Find Them: Magical Movie Handbook – Michael Kogge – 2016
3 - Fantastic Beasts and Where to Find Them: Character Guide – Michael Kogge – 2016
4 - J. K. Rowling's Wizarding World Movie Magic: Volume 1: Extraordinary People and Fascinating Places – Jody Revenson – 2016
5 - J. K. Rowling's Wizarding World Movie Magic: Volume 2: Curious Creatures – Ramin Zahed -2016
6 - J. K. Rowling's Wizarding World Movie Magic: Volume 3: Amazing Artifacts – Bonnie Burton - 2016
7 - Newt Scamander: A Movie Scrapbook – Rick Barra – 2016
8 - The Case of Beasts: Explore the Film Wizardry of Fantastic Beasts and Where to Find Them -Mark Salisbury – 2016
9 - https://harrypotter.wikia.com/wiki/Jacob_Kowalski#cite_note-poland-1
10 - https://en.wikipedia.org/wiki/Selective_Service_Act_of_1917
Pensieve (Comments)