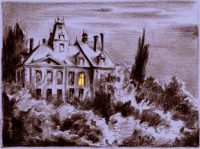 Chapter one of the Goblet of Fire was a big surprise for the Harry Potter fans who read it for the first time. Unlike the previous books, this book did not start with the Dursleys. It opened at Little Hangleton, with a murder mystery that reminded me of English detective series.
Chapter one also surprised many a fan who read it for the second time. In chapter two, Harry's memory of his vision fades quickly. I don't know about you, but it faded from my memory as well. I just wanted to find out what would happen to Harry in this book. So only when I read the book again, did I discover that the fate of poor Bertha Jorkins had been spelled out in this first chapter… Rowling is great at hiding clues in plain sight!
When I read chapter one for at least the twentieth time today, it surprised me once more. It struck me how much the Riddle's House resembles the Shrieking Shack in Hogsmeade. Both houses are described as creepy, abandoned buildings on the outside of a village. With boarded up windows and thick layers of dust on the floor. And both housed a villain on the run at one time.
So this chapter just keeps surprising readers. I therefore urge you to read it again.
Podcast: Play in new window | Download (Duration: 2:33 — 3.2MB)
Subscribe: Google Podcasts | Stitcher | RSS
Commentary
Notes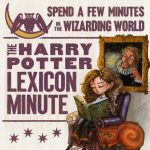 In the Harry Potter Lexicon Minute podcast you'll hear the voices of our editors sharing some of the many little things which delight us about the Wizarding World. In each podcast, just a couple of minutes in length, we'll talk about anything from cool trivia and interesting canon passages to the latest Wizarding World news. We hope you'll join us! And we'd love to hear from you as well. Feel free to use the comment section on the blogpost for each podcast to post your thoughts.
Special thanks go to Felicia Cano who gave us permission to use her amazing artwork of Hermione reading a book for the logo, which was created by Kim B.
Check out the PodBean app here
And if you want to create a podcast of your own, check out PodBean's hosting service.
Music: "Winter Chimes" Kevin MacLeod (incompetech.com)
Licensed under Creative Commons: By Attribution 3.0 License
http://creativecommons.org/licenses/by/3.0/
Pensieve (Comments)