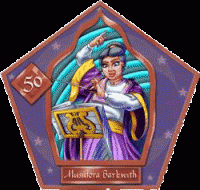 Composer of the unfinished "Wizarding Suite," which features an exploding tuba. Has been banned since its last performance in 1902, when it blew the roof out of Ackerley Town Hall (FW).
Musidora Barkwith
Profession
Music Composer
Commentary
Etymology
"Musidora" is a Greek name meaning "gift of the Muses," the goddeses of arts such as music and poetry.
Musidora was also the stage name of French silent movie actress Jeanne Roques who starred in a serial called Les Vampires from 1915-1916.
Pensieve (Comments)
Tags: explosions musicians