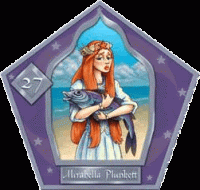 A type of fish.
Mirabella Plunkett (1839-?) transfigures herself into a haddock and disappears after her family forbids her to marry a merman she meets while vacationing near Loch Lomond (FW).
Commentary
Notes
The most obvious conclusion from the given information is that Plunkett turns herself into a Haddock in order to live in Loch Lomond with the merman. However, the haddock is a saltwater fish and Loch Lomond is a freshwater lake. -BB
One possible explanation is that magic somehow allows a haddock to survive in freshwater - perhaps it's the same thing that allows Hogwarts's giant squid to live in the lake there.
Another possibility is that Plunkett does disappear into the ocean. She was vacationing "near" Loch Lomond, which really isn't too terribly far from the coast (source: Google Maps).
Pensieve (Comments)
Tags: water