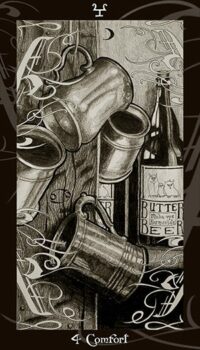 'Odo the Hero' is the name of a slow, sad song about a dying hero (HBP22, DH8). The song appears to go well with an excess of alcohol.
Sample of the lyrics:
"And Odo the hero, they bore him back home

To the place that he'd known as a lad,

They laid him to rest with his hat inside out.

And his wand snapped in two, which was sad." (HBP22)
Hagrid and Slughorn drunkenly sing the song after Aragog's burial (HBP22). Sitting in a corner together as Bill and Fleur's wedding reception lasts into the night, Charlie, Hagrid, and a wizard with a purple porkpie hat sing 'Odo the Hero' (DH8).
Commentary