But there's a lot more going on in this chapter than just that horrific detention.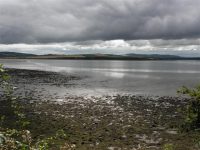 The thirteenth chapter of Order of the Phoenix is called "Detention with Dolores," and I think it's fair to say that those detention scenes dominate our reading. I don't know if there's a more disturbing passage in any of the Potter books than the last half of this chapter. I honestly can't imagine being able to write more than the first word while each letter cut into my skin, much less writing that whole sentence over and over.
But there's a lot more going on in this chapter than just that horrific detention. The first half takes us into the challenges and frustrations of the fifth year at Hogwarts: OWL lectures, homework piling up, and grim teachers just might make us fans think twice about wanting to attend Hogwarts.
Rowling continues to use the weather motif to mirror Harry's mood. We read:
Rain pounded on the windowpanes as they strode along the empty corridors back to Gryffindor Tower. Harry felt as though his first day had lasted a week, but he still had a mountain of homework to do before bed. A dull pounding pain was developing over his right eye. He glanced out of a rain-washed window at the dark grounds as they turned into the Fat Lady's corridor. There was still no light in Hagrid's cabin.
And the next day:
The following day dawned just as leaden and rainy as the previous one. Hagrid was still absent from the staff table at breakfast.
The next day, Harry's experiences a mixture of lows — Hagrid still missing and Malfoy's taunting — and highs — Luna and Ernie proclaiming their support of him. The weather is similarly mixed:
The day had become cool and breezy, and as they walked down the sloping lawn towards Hagrid's cabin on the edge of the Forbidden Forest, they felt the occasional drop of rain on their faces.
Along with the dark, difficult classes, we're also treated to a number of unsettling subplots. Hermione and Ron's bickering is a constant background theme. Fred and George's experiments on First Years and Hermione telling them off sets some of our favorite characters against each other. The elf hats left around Gryffindor Tower — and more importantly the fact that they disappear every night — is a small mystery which won't be solved for many chapters. Ron's strange behavior about what he's doing in the evenings pops up a couple of times, although thankfully we're not left to wonder about this for long.
All in all, chapter thirteen is as unsettling as the weather. Rowling is certainly taking Harry — and us — down a dark, uncertain path.
Podcast: Play in new window | Download (Duration: 2:45 — 3.4MB)
Subscribe: Google Podcasts | Stitcher | RSS
Commentary
Notes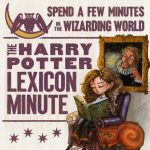 In the Harry Potter Lexicon Minute podcast you'll hear the voices of our editors sharing some of the many little things which delight us about the Wizarding World. In each podcast, just a couple of minutes in length, we'll talk about anything from cool trivia and interesting canon passages to the latest Wizarding World news. We hope you'll join us! And we'd love to hear from you as well. Feel free to use the comment section on the blogpost for each podcast to post your thoughts.
Special thanks go to Felicia Cano who gave us permission to use her amazing artwork of Hermione reading a book for the logo, which was created by Kim B.
Check out the PodBean app here
And if you want to create a podcast of your own, check out PodBean's hosting service.
Music: "Winter Chimes" Kevin MacLeod (incompetech.com)
Licensed under Creative Commons: By Attribution 3.0 License
http://creativecommons.org/licenses/by/3.0/
Pensieve (Comments)
Tags: weather