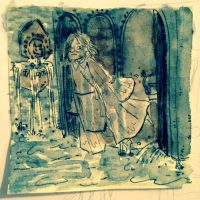 Did Moaning Myrtle ever find out that it was Hagrid that was accused of being responsible for her murder?
I know she was intent on haunting Olive Hornby for a while after her death. But, it was 50 years before Hagrid's name was cleared. Did Myrtle ever wonder how or why she died? Did she find out that the man 'responsible' lived on the very campus she haunted? I think book evidence tends to lean towards she never found out more about her death. When she tells Harry and Ron about the night she died she didn't give specific details of who had done it. Just that she had heard a boy's voice and saw eyes by the sink. If she had looked into it and heard it was Hagrid, why did she leave that detail out when talking to Ron and Harry?
This must mean that Hagrid also avoided her. I mean, he didn't really have any reason to go into a girls' bathroom up in the castle once he became game keeper; perhaps Hagrid never even knew that the ghost of the girl he was wrongly blamed for killing was still around.
Another point: perhaps no one knew that Myrtle was the ghost of the girl killed 50 years ago. The book makes it sound like Harry and Ron were the ones to figure that out. If anyone had known they would have asked her way earlier than Ron and Harry had about the Chamber of Secrets, solving the mystery that much sooner and saving everyone from the fear and confusion of that year at Hogwarts.
Podcast: Play in new window | Download (Duration: 2:13 — 2.0MB)
Subscribe: Google Podcasts | Stitcher | RSS
Commentary
Notes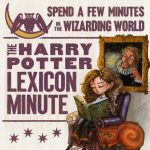 In the Harry Potter Lexicon Minute podcast you'll hear the voices of our editors sharing some of the many little things which delight us about the Wizarding World. In each podcast, just a couple of minutes in length, we'll talk about anything from cool trivia and interesting canon passages to the latest Wizarding World news. We hope you'll join us! And we'd love to hear from you as well. Feel free to use the comment section on the blogpost for each podcast to post your thoughts.
Special thanks go to Felicia Cano who gave us permission to use her amazing artwork of Hermione reading a book for the logo, which was created by Kim B.
Check out the PodBean app here
And if you want to create a podcast of your own, check out PodBean's hosting service.
Music: "Winter Chimes" Kevin MacLeod (incompetech.com)
Licensed under Creative Commons: By Attribution 3.0 License
http://creativecommons.org/licenses/by/3.0/
Pensieve (Comments)