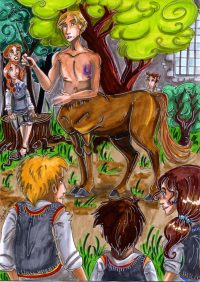 Today we're jumping into chapter 27 of Order of the Phoenix, entitled "The Centaur and the Sneak." As I re-read this chapter looking for a good topic for this Minute podcast, I found myself making a series of notes about a lot of disconnected tidbits. So as I've done before, I'm going to talk about a number of things, little bits of interesting canon and thoughts.
The first half of this chapter describes the first Divination class with Firenze as teacher. Before the fifth years head off to that class, Parvati spends a few moments at breakfast "curling her eyelashes around her wand," presumably to impress the centaur. I'm guessing that Rowling is suggesting that the wand's magic would somehow improve someone's eyelashes, rather like magical mascara. It seems that wands are remarkably versatile tools.
The class itself is fascinating. We are treated to a magically-created environment, making classroom eleven into the magical equivalent of Star Trek's holodeck. Then we listen to Firenze's dismissal of fortune telling only to replace it with his own version, which is equally vague and unreliable. At the end of class, we hear him ask Harry to warn Hagrid that "his attempt is not working, " which reminds us of the ongoing mystery of what in the world the gamekeeper is up to, anyway.
At this point in the chapter, we read another of Rowling's weather metaphors:
"As a dull March blurred into a squally April, [Harry's] life seemed to have become one long series of worries and problems again."
And sure enough, things get "squally" very quickly in the form of Umbridge breaking up the DA meeting. Harry is captured by Draco and is brought by Umbridge before Fudge in Dumbledore's office. The DA has been betrayed.
Let me just say that there is a lot of misplaced anti-Cho sentiment out there in fandom. As with so many other film inaccuracies, the fact that in that movie we see Cho as having spilled the beans under the effect of Veritaserum has poisoned fan thinking. Even those who pride themselves on being book fans above all can fall victim to this. I found that I myself had slipped up when working on the Lexicon's timeline and adding Fred and George's leaving Hogwarts. It was a bit humbling to rediscover that they didn't leave on the same day that they set off the fireworks — without realizing it, I had bought into the film's inaccurate — and very memorable — version. We'll see this again at the end of this chapter when we hear that famous line to Fudge about Dumbledore "you cannot deny he's got style …" and realize that it's not spoken by Kingsley Shacklebolt at all, but by Phineas Nigellus.
Just a couple of other little interesting bits:
Fudge tells Percy to "duplicate your notes, Weasley." I wonder what spell that is? Probably something related to the Doubling Charm that the Trio encounters in the Lestrange vault.
Both Dawlish's first and last names are interesting bits of trivia. Dawlish is the name of a town on the south coast of Britain near Exeter, which is one more name Rowling borrowed from the area where she went to university. Rowling gave Dawlish the first name of John in honor of John Noe, the creative director of the Leaky Cauldron website.
Umbridge's face is described as "growing steadily redder … as though she was being filled with boiling water." This is one of Rowling's writing quirks, describing people's faces as changing colors to indicate strong emotion. She frequently uses this to describe Uncle Vernon.
And finally, the portraits of former Heads in Dumbledore's office make faces and hissing noises at Fudge, and some even make "rude hand gestures"! Oh, how I wish we'd have been able to see that in the film: ancient wizards in their portraits giving the Minster for Magic the two-fingered salute

.
Podcast: Play in new window | Download (Duration: 4:37 — 5.1MB)
Subscribe: Google Podcasts | Stitcher | RSS
Commentary
Notes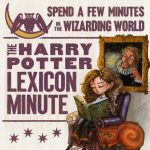 In the Harry Potter Lexicon Minute podcast you'll hear the voices of our editors sharing some of the many little things which delight us about the Wizarding World. In each podcast, just a couple of minutes in length, we'll talk about anything from cool trivia and interesting canon passages to the latest Wizarding World news. We hope you'll join us! And we'd love to hear from you as well. Feel free to use the comment section on the blogpost for each podcast to post your thoughts.
Special thanks go to Felicia Cano who gave us permission to use her amazing artwork of Hermione reading a book for the logo, which was created by Kim B.
Check out the PodBean app here
And if you want to create a podcast of your own, check out PodBean's hosting service.
Music: "Winter Chimes" Kevin MacLeod (incompetech.com)
Licensed under Creative Commons: By Attribution 3.0 License
http://creativecommons.org/licenses/by/3.0/
Pensieve (Comments)